---
Free Republic University, Department of History presents
World War II Plus 70 Years: Seminar and Discussion Forum
First session: September 1, 2009. Last date to add: September 2, 2015.
Reading assignment:
New York Times
articles delivered daily to students on the 70th anniversary of original publication date. (Previously posted articles can be found by searching on keyword "realtime" Or view
Homer's posting history
.)
To add this class to or drop it from your schedule notify Admissions and Records (Attn: Homer_J_Simpson) by freepmail. Those on the Realtime +/- 70 Years ping list are automatically enrolled. Course description, prerequisites and tuition information is available at the bottom of Homer's profile. Also visit our
general discussion thread.
---
To: Homer_J_Simpson
Selections from West Point Atlas for the Second World War
North Africa, 1941: Pursuit to Tunisia, November 1942-February 1943
Tunisia 1942: Axis Initiative-Situation 14 February 1943, and Operations Since 1 January
Southwest Russia, 1942: Soviet Winter Offensive, Operations, 13 December 1942-18 February 1943
The Far East and the Pacific, 1941: Status of Forces and Allied Theater Boundaries, 2 July 1942
India-Burma, 1942: Allied Lines of Communication, 1942-1943
2
posted on
01/31/2013 4:23:26 AM PST
by
Homer_J_Simpson
("Every nation has the government that it deserves." - Joseph de Maistre (1753-1821))
---
To: Homer_J_Simpson
---
January 31, 1943
:
January 28-31: "Ten thousand Jews from Pruzhany, Belorussia, are deported to Auschwitz.
January 29: "Germans execute 15 Poles at the village of Wierzbica for aiding three Jews.
One of the victims is a two-year-old girl.
January 30: "Ernst Kaltenbrunner is named by Hitler to succeed the late Reinhard Heydrich as chief of Reichssicherheits- hauptamt (Reich Security Main Office)."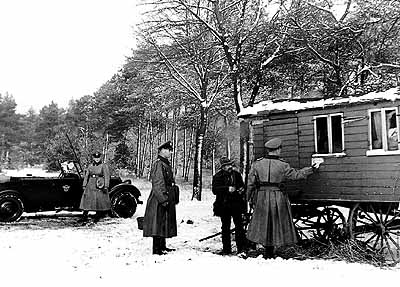 "At the edge of a forest in Germany, Schutzpolizei (Protective Police) post a notice--perhaps a declaration of confiscation--on a Gypsy wagon.
Gypsies were special targets of the Nazis, who saw them as a potential danger to the presumed purity of the "Aryan race."
The essential mismatch of the Nazi/Gypsy relationship is clear in this tableau, as the husky, warmly dressed policemen, carried to the remote site in their modern automobile, confront the apprehensive Gypsy at his home, a wheeled relic of an earlier era."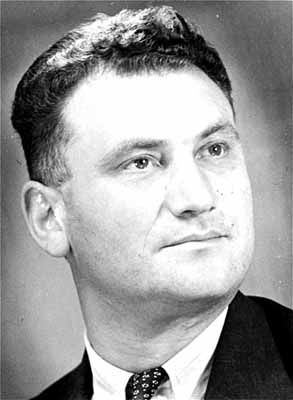 "Of the estimated 20,000 to 30,000 Jews who fought in partisan groups in the forests of Eastern Europe, the group led by Tuvia Bielski (pictured) was the largest and the most renowned.
Though members of his family were murdered by Einsatzgruppen in Novogrudok, Tuvia escaped to the forests of western Belorussia.
"Together with his brothers Zusya, Asael, and Aharon, Tuvia secured arms and created a partisan group that grew to 30 members by summertime.
This small band of Resistance fighters dispatched couriers to the ghettos in the Novogrudok region to recruit fellow Jews to join their camp.
Eventually, Bielski's camp contained hundreds of families.
"The primary aim of the Bielski partisans was to protect Jewish lives.
But they were also aggressive, launching raids against the Germans and exacting revenge on Belorussian police and farmers who helped the Nazis massacre Jews.
"Frustrated by the activities of the Bielski group, the Germans offered a large reward for Tuvia's capture. However, the group successfully escaped by retreating deep into the forest.
When the area was liberated in the summer of 1944, Bielski's band of partisans numbered 1200.
"After the war, Tuvia immigrated to Palestine. He later settled in the United States with two surviving brothers."
---
---
To: Homer_J_Simpson
Page 7, butter rationing for US citizens reduced to 13 lbs/year. That's one stick a week.
---
FreeRepublic.com is powered by software copyright 2000-2008 John Robinson