---
To: Homer_J_Simpson
---
January 31, 1943
:
January 28-31: "Ten thousand Jews from Pruzhany, Belorussia, are deported to Auschwitz.
January 29: "Germans execute 15 Poles at the village of Wierzbica for aiding three Jews.
One of the victims is a two-year-old girl.
January 30: "Ernst Kaltenbrunner is named by Hitler to succeed the late Reinhard Heydrich as chief of Reichssicherheits- hauptamt (Reich Security Main Office)."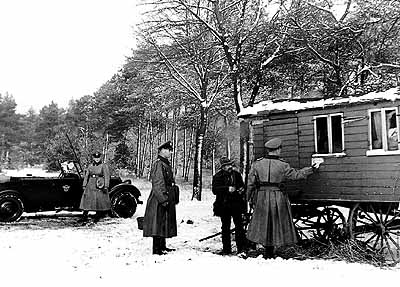 "At the edge of a forest in Germany, Schutzpolizei (Protective Police) post a notice--perhaps a declaration of confiscation--on a Gypsy wagon.
Gypsies were special targets of the Nazis, who saw them as a potential danger to the presumed purity of the "Aryan race."
The essential mismatch of the Nazi/Gypsy relationship is clear in this tableau, as the husky, warmly dressed policemen, carried to the remote site in their modern automobile, confront the apprehensive Gypsy at his home, a wheeled relic of an earlier era."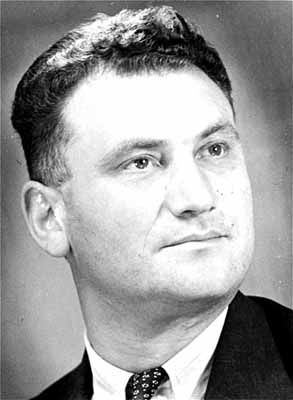 "Of the estimated 20,000 to 30,000 Jews who fought in partisan groups in the forests of Eastern Europe, the group led by Tuvia Bielski (pictured) was the largest and the most renowned.
Though members of his family were murdered by Einsatzgruppen in Novogrudok, Tuvia escaped to the forests of western Belorussia.
"Together with his brothers Zusya, Asael, and Aharon, Tuvia secured arms and created a partisan group that grew to 30 members by summertime.
This small band of Resistance fighters dispatched couriers to the ghettos in the Novogrudok region to recruit fellow Jews to join their camp.
Eventually, Bielski's camp contained hundreds of families.
"The primary aim of the Bielski partisans was to protect Jewish lives.
But they were also aggressive, launching raids against the Germans and exacting revenge on Belorussian police and farmers who helped the Nazis massacre Jews.
"Frustrated by the activities of the Bielski group, the Germans offered a large reward for Tuvia's capture. However, the group successfully escaped by retreating deep into the forest.
When the area was liberated in the summer of 1944, Bielski's band of partisans numbered 1200.
"After the war, Tuvia immigrated to Palestine. He later settled in the United States with two surviving brothers."
---
---
To: BroJoeK
Gypsies were special targets of the Nazis, who saw them as a potential danger to the presumed purity of the "Aryan race."
It's been some time since I read on this subject but my general understanding has been that Nazis afforded protections to "racially pure" Gypsies, those considered to have socially adapted, those who served honorably in WWII and several other categories while persecuting those classified as products of intermarriage with slavic peoples, or "antisocial".
Many otherwise exempt Gypsies were deported to the east as an unintended consequence of general orders to confiscate horses and wagons for the war effort. Deprived of their horses and caravans, Gypsies were suddenly homeless and easy candidates for deportation by local authorities.

---
FreeRepublic.com is powered by software copyright 2000-2008 John Robinson