---
Free Republic University, Department of History presents
World War II Plus 70 Years: Seminar and Discussion Forum
First session: September 1, 2009. Last date to add: September 2, 2015.
Reading assignment:
New York Times
articles delivered daily to students on the 70th anniversary of original publication date. (Previously posted articles can be found by searching on keyword "realtime" Or view
Homer's posting history
.)
To add this class to or drop it from your schedule notify Admissions and Records (Attn: Homer_J_Simpson) by freepmail. Those on the Realtime +/- 70 Years ping list are automatically enrolled. Course description, prerequisites and tuition information is available at the bottom of Homer's profile. Also visit our
general discussion thread.
---
To: Homer_J_Simpson
Selections from West Point Atlas for the Second World War
Tunisia 1942: Axis Initiative-Situation 14 February 1943, and Operations Since 1 January
Southwest Russia, 1942: Soviet Winter Offensive, Operations, 13 December 1942-18 February 1943
The Far East and the Pacific, 1941: Status of Forces and Allied Theater Boundaries, 2 July 1942
India-Burma, 1942: Allied Lines of Communication, 1942-1943
2
posted on
02/08/2013 5:15:22 AM PST
by
Homer_J_Simpson
("Every nation has the government that it deserves." - Joseph de Maistre (1753-1821))
---
To: Homer_J_Simpson
---
February 8, 1943
:
"The Red Army overruns a key German garrison at Kursk, Russia; See July 5, 1943.
February 8-26: "A German Aktion against Soviet partisans at Pripet Marshes, Ukraine, captures eight machine guns, 172 rifles, 14 pistols, 150 hand grenades, and eight land mines.
German troops also make off with more than 550 horses, 9,578 head of cattle, 844 pigs, 5,700 sheep, and 233 tons of grain.
2,219 Jews are killed outright; 7,378 receive 'special treatment' (deportation and extermination).
German losses in the action are two dead and 12 wounded."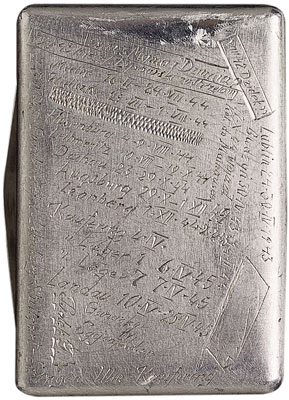 "This handmade metal box was carried by William Gruenstein throughout the Holocaust.
The box was made by Josef Koplewicz while he and Gruenstein were enslaved in a Polish labor camp.
After receiving the box, Gruenstein carved on the lid the names of Nazi concentration camps where he had been imprisoned.
By clinging to this cherished piece of metal, his sole private possession, Gruenstein denied the Nazis' attempt to deprive him of his humanity and individuality."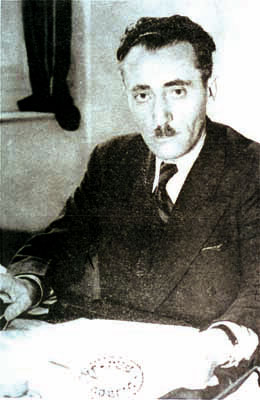 "While some Jews chose suicide to end their suffering, others did it as a means of protest.
Samuel Zygelbojm committed suicide to protest the world's indifference to Jews.
"Zygelbojm served on the Warsaw Ghetto's first Jewish Council.
He urged resistance when the Nazi authorities demanded that Warsaw's Jews move into a ghetto ill-suited to their huge numbers.
Hunted by the Gestapo, Zygelbojm fled to Belgium and eventually joined the Polish government-in-exile in London.
He labored feverishly to secure Allied military support for the ghetto resistance, but to no avail.
When he learned of the deaths of the ghetto resisters in 1943, including his wife and son, he killed himself.
"In his farewell letter, Zygelbojm described his suicide as an act of protest 'against the apathy with which the world regards and resigns itself to the slaughter of the Jewish people.' "
---
---
FreeRepublic.com is powered by software copyright 2000-2008 John Robinson