---
(Freedom of Choice, Comrades!) North Koreans Allowed to Choose from 28 State-Approved Haircuts
WantChinaTimes.com ^ | 2013-02-23 | Maggie Kuo and Charlie Storrar


Posted on 03/03/2013 10:45:18 AM PST by DogByte6RER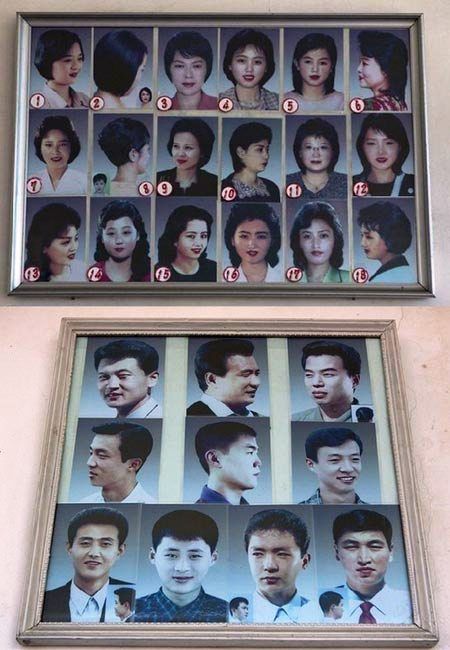 Capita list: North Korea approves 28 model socialist hairstyles
It's not just nuclear weapons proliferating on the Korean peninsula these days. In a move that for once is not considered a threat to regional and global security, the North Korean government has recommended a relatively generous range of 28 hairstyles for its citizens, claiming that they are "the most comfortable" styles and capable of warding off the corrupting effects of capitalism, according to ifeng.com, a news website run by Hong Kong's Phoenix TV network.
Pictures can be seen on the walls of hair salons around the country showing the approved styles for men and women. Spiky hair is forbidden, as are quiffs — the nation has learned the baleful lesson from the decadent South that outrageous hairstyles may lead to the formation of effete boy bands or to pervasive mental health problems whereby people hallucinate riding invisible horses. Under no circumstances should you enter a North Korean barber shop and ask for your hair to be cut "Gangnam Style."
The list of 18 acceptable female hairstyles show North Korean women are given more choice in their coiffeur after they wed. Approved styles for single women are simple but married women are permitted to indulge in a few extra stylistic flourishes. This also has the useful effect of establishing whether a woman is married or not at a glance. If you like it, then you should have put some curlers in it, to paraphrase Beyonce.
Men are somewhat more restricted, with only ten styles to choose from and a longer list of rules to follow. The hair of the country's young men should be less than 5 cm long and they should have a haircut once every 15 days as longer hair apparently takes away nutrition from their brains. Older men, whose brains are presumably in decline anyway, are allowed to rock out with hair as long as 7 cm.
Ri Chun-hee, the news anchor for the country's Korean Central Television who is known for being patriotic to the point of hysteria, changed her hairstyle twice within two weeks in 2011, sparking speculation as to what the changes signified. She was seen with a bang perm and hair tugged behind her ears in March 2011 before she switched back to the most common hairstyle for TV anchors in the country — side bangs and short layered hair covering her ears slightly — less than 14 days later, according to ifeng.
The hairstyle changes have been interpreted as suggesting that Pyongyang is trying to improve its image since the state broadcaster is considered the front gate of the country. Others speculate that the changes were made because the country's young leader Kim Jong-un disliked the previous styles.
Perhaps a touch unfairly, it appears from the list that North Korean men are not allowed to emulate the preferred hairdo of the country's new leader. Kim himself has most recently been seen sporting longer hair on top with a center parting and his head completely shaved at the sides, a style popular in the West among teenage fans of bands such as Pearl Jam and the Lemonheads in the early 1990s.

---
TOPICS: Chit/Chat; Local News; Miscellaneous; Society; Weird Stuff
KEYWORDS: barbershop; bigbrother; comingtoamerica; commies; communism; freedomofchoice; gulag; gulagglamour; haircut; kimjongun; marxism; marxistmakeover; nannybloomberg; nannystate; napl; northkorea; orwellian; pyongyang; socialism; socialisthairstyles
---
Navigation: use the links below to view more comments.
first 1-20, 21-40, 41-45 next last
---
---
---
---
---
---
---
---
---
---
---
---
---
---
Comment #14 Removed by Moderator
---
---
---
---
---
---
---
Navigation: use the links below to view more comments.
first 1-20, 21-40, 41-45 next last
---
---