---
(Hmmmmmm ...) The Walking Dead Is All About Blood, Gore – & Gun Control
The Guardian ^ | Monday 1 April 2013 | Alan Yuhas


Posted on 04/01/2013 2:33:47 PM PDT by DogByte6RER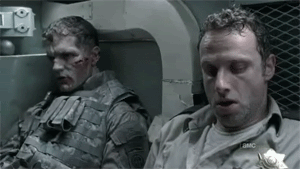 The Walking Dead is all about blood, gore – and gun control
• Despite its violence, The Walking Dead mirrors moderate US attitudes on gun ownership and background checks
The Walking Dead finished its third season in a flourish of gunfire and guts, sticking to the pillars of its ratings dominance. While nobody's much surprised by the extreme bloodiness of a show that merges two violent genres – post-apocalyptic horror and the classic western, – what is surprising is that The Walking Dead actually reflects moderate, popular US views on gun control.
That might seem like a ridiculous statement for a show this steeped in gore, but if we trace its use of guns, it becomes clear that the show emphasizes an odd, very American mix of conservative pragmatism and liberal concern about restraints and leadership. (No major spoilers follow.)
The first season of The Walking Dead is almost purely survival thriller. The stragglers, led by a sheriff named Rick, only care about guns as a matter of self-defense. They use plenty of them, but also whatever's at hand. In fact, after two and a half seasons, guns only account for slightly more than half of the show's violence. Characters have killed zombies with a car door, an internet cable, a sword and a chair leg, not to mention the crossbow preferred by the show's most popular character. What's to learn from all this? A clear and present need for self-defense justifies violence, and you can use just about anything to kill a zombie.
Season two slows things down. Amid a lot of hand wringing and hammy conversations, the characters sort out how to live when survival isn't a constant concern.

(Excerpt) Read more at guardian.co.uk ...
---
TOPICS: Chit/Chat; Miscellaneous; Outdoors; Society; TV/Movies
KEYWORDS: banglist; guncontrol; gunsandammo; secondamendment; selfdefense; thewalkingdead; undead; walkingdead; zday; zombie; zombieapocalypse; zombies
---
Navigation: use the links below to view more comments.
first 1-20, 21-40, 41-46 next last
---
---
---
---
---
---
---
---
---
---
---
---
---
---
---
---
---
---
---
---
---
Navigation: use the links below to view more comments.
first 1-20, 21-40, 41-46 next last
---
---