---
Official United Nations Twitter Account Follows Busty German Porn Star in X-Rated Videos
NEW YORK DAILY NEWS ^ | Tuesday, May 7, 2013 | Lee Moran


Posted on 05/07/2013 7:42:57 PM PDT by DogByte6RER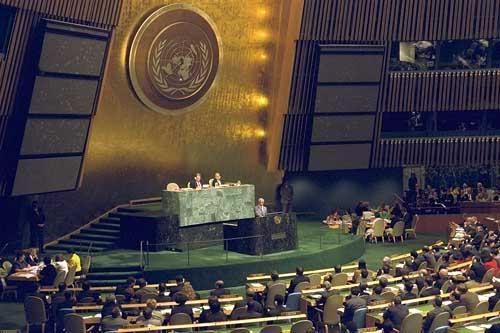 Official UN Twitter account follows busty German porn star in X-rated videos
@PBDBigBustyStar was one of only 537 people followed by @UN — until the account got busted by Eagle-eyed tweeters at Constitutionschool.com.
A United Nations staffer has been so busted.
The official Twitter account was mixing business with pleasure by following a busty German porn star.
Penelope Black Diamond — who regularly posts X-rated videos via @PBDBigBustyStar — was revealed to be among only 537 people followed by @UN.
Rubbing virtual shoulders with dignitaries and heads of states, the adult actress was placed three accounts beneath World Bank Africa Region and two above @ChildreninWar.

(Excerpt) Read more at nydailynews.com ...
---
TOPICS: Chit/Chat; Miscellaneous; Society; Weird Stuff
KEYWORDS: busted; foreignaid; pornography; rathole; scandal; twitter; unitednations; xrated
---
---
---
---
---
---
---
---
---
---
---
---
---
---
---
---
---
---
---