---
Boffins build telescopic contact lenses to battle blindness
The Register ^ | 2nd July 2013 | Iain Thomson in San Francisco,


Posted on 07/09/2013 1:35:43 PM PDT by Ernest_at_the_Beach
But you'll still need to wear glasses
An international research team has built a set of contact lenses designed to help those of us getting on a bit in years, which can magnify vision up to x2.8 and be worn all day.
As the body ages, the central part of the retina can decay, and age-related macular degeneration (AMD) is the leading cause of blindness in the increasingly elderly Western world. The contact lens developed by the team uses refracting mirrors to increase the magnification to the cornea, which when coupled with a set of LCD spectacles, can correct failing eyesight.
It has been possible to correct AMD for some time now, but doing so requires either heavy telescopic eyewear (or a handheld telescope) or the implantation of microscopic image intensifiers in the eye itself. Both solutions have disadvantages in comparison to the team's new scheme, Eric Tremblay of the École Polytechnique Fédérale de Lausanne (EPFL), coauthor of a research paper describing the technique, told The Register.
"With a contact lens you don't have the practical disadvantages of telescopic eyewear or the medical invasiveness of implants," he explained. But taking the design to a practical level has taken a lot of research and some ultra-high precision engineering.
It has been possible to make a contact lens to perform a similar magnifying function to counter AMD, but the best designs are 4.4mm thick (making them very uncomfortable) and not gas-permeable. As any contact lens wearer will know, wearing impermeable lenses for any length of time is highly uncomfortable, and could cause further eye damage.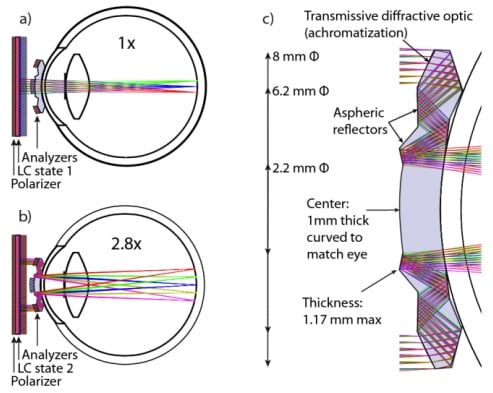 Eye, Eye, mate
The new design cuts that thickness to a manageable 1.17mm, and the material can be made gas-permeable to allow longer periods of use without irritating the eye. At its core there's a clear 1mm-thick lens, but the outside of the 8mm-diameter eyewear gets greater magnification thanks to four waves of reflection from coated custom optics.
The team used a pair of Samsung 3D glasses with LCD lenses to block or allow light to enter the contact lens optics, allowing the user to focus on the desired target. It might be possible to dispense with the glasses and build filtering direct onto the lens, but that introduced a new set of engineering difficulties, Tremblay explained, and the Samsung technology is easily adaptable and in use today.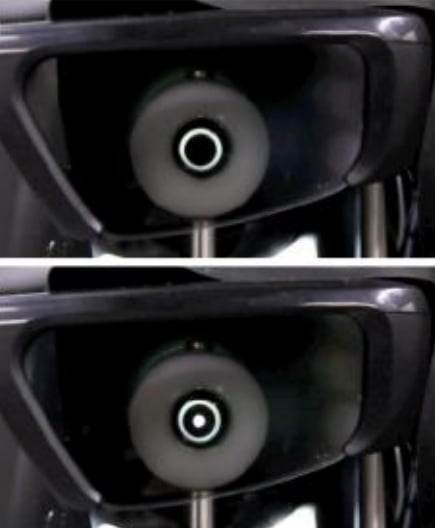 Terminator eyes
"The biggest challenge was making the lens gas-permeable, since some of the materials we use aren't permeable and are relatively thick," he said. "One of the team in San Diego had a clever idea of building tiny air channels to bring oxygen underneath the lens. It seemed pretty harebrained but it worked really well."
At the moment each lens has to be hand-assembled using different parts, but further research by manufacturers is showing a lot of promise, Tremblay said. Telescopic lenses aren't going to be as cheap as regular contacts any time soon, he explained, but they may eventually provide a less bulky and less invasive solution to the AMD issue than the alternatives. ®

---
TOPICS: Business/Economy; Health/Medicine
KEYWORDS: eyesight; hitech; vision



---
To: neverdem; SunkenCiv
---
To: Ernest_at_the_Beach
I wonder how that sharp edge will feel on your eye and eyelid.
3
posted on
07/09/2013 1:37:58 PM PDT
by
Blood of Tyrants
(Inside every liberal and WOD defender is a totalitarian screaming to get out.)
---
To: Ernest_at_the_Beach
---
To: Ernest_at_the_Beach
When I see the word "Boffins" I always think of this:
---
To: Ernest_at_the_Beach
I've been making telescope optics for over 25 years and I can honestly say that I've never seen a light path quite like that. I wonder if the large central obstruction will have odd diffraction effects on point light sources at night?
6
posted on
07/09/2013 1:44:08 PM PDT
by
RingerSIX
(My wife and I took an AIDS vaccine that they offer down at our Church.)
---
FreeRepublic.com is powered by software copyright 2000-2008 John Robinson