---
Sasquatch Cited in Mine Hearings (B.C. Canada)
The Prince George Citizen ^ | August 21, 2013 | Peter JAMES


Posted on 08/27/2013 8:49:05 PM PDT by DogByte6RER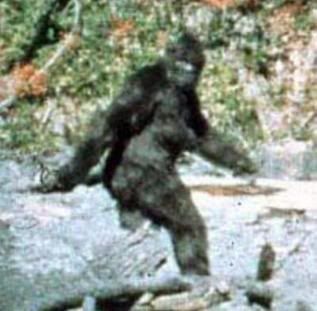 Sasquatch cited in mine hearings
Most people consider the sasquatch a legendary creature, but the mythical bush man of northern B.C. received its fair share of attention at environmental review hearings into the proposed New Prosperity gold and copper mine.
While most of the attention focused on more tangible creatures like trout, salmon and grizzly bears, members of First Nations community have repeatedly brought up the sasquatch during community hearings over the past three weeks.
In most cases, the aboriginal speakers talked about the ape-like man in the context of legend, but others treated sasquatches as something the Canadian Environmental Assessment Agency panel should seriously consider. It is studying a proposal by Taseko Mines to construct an open-pit facility about 125 km south of Williams Lake.
Former Esdilagh chief Thomas Billyboy said not only has he noticed grizzly bears leaving the Cariboo - which he attributes to increased development in the region - he said sasquatches have been leaving, too. Billyboy interpreted the movement of all the animals as a sign everything in the Chicoltin area could die if more industry is allowed to set up camp in the area.
Billyboy told the panel that he's heard that sasquatches have been spotted as far away as Vanderhoof.
"I'm not kidding you," he said. "One fella said there's something really stinking in the bush when he was coming back and the image of a person standing there."
Other speakers told the panel about the cultural value sasquatches play in their society.
During hearings in Tl'etinqox-tin, Angelina Stump told the panel that her people's oral history includes a time many generations ago when animals spoke directly with people. At that point in their history, the aborginals had to kill the sasquatches or risk being killed themselves.
"If that did not happen, to this day they might have taken us over if that did not happen," she said of the sasquatches. "That is what I hear."
Also at Tl'etinqox-tin, university student Colton Phillips said the story of the last sasquatch was an important component of a culture camp he recently attended. He said the creature is buried near a place where a woman was turned into rock and three dogs were transformed into stone.
"The sasquatch story happened up right on top of this mountain here," he told the panel. "It's history over there. You can walk up and probably try to find that cave."
Meanwhile, Esdilagh First Nation Chief Bernie Elkins spoke of the sasquatch during both his opening and closing remarks, but he used to creature to lighten the mood in the hearing room.
"Just watch out for the sasquatch on your way out," he said.

---
TOPICS: Business/Economy; Chit/Chat; Local News; Outdoors; Pets/Animals; Weird Stuff
KEYWORDS: bigfoot; britishcolumbia; canada; coppermining; cryptobiology; cryptozoology; godsgravesglyphs; goldmining; legend; mining; sasquatch; skunkape
---
Navigation: use the links below to view more comments.
first 1-20, 21 next last
---
---
---
---
---
---
---
---
---
Comment #9 Removed by Moderator
---
---
---
Comment #12 Removed by Moderator
---
Comment #13 Removed by Moderator
---
---
---
---
---
---
---
---
Navigation: use the links below to view more comments.
first 1-20, 21 next last
---
---