---
The 2013 Atlantic Hurrican Season (none for the USA so far)
18OCT2013 | Jack Hydrazine


Posted on 10/18/2013 12:54:12 PM PDT by Jack Hydrazine

The 2013 Atlantic hurricane season is an ongoing annual cycle in tropical cyclogenesis. It is the first Atlantic hurricane season since 2002 to feature no hurricanes through the month of August. The season officially began on June 1 and will end on November 30. The first tropical cyclone of the year, Andrea, developed on June 7 in the Gulf of Mexico. This season continued a pattern of unusually early starting hurricane seasons – the first named storm of a season typically forms around July 9. Below average activity continued afterwards into October. The strongest tropical cyclone of the season thus far is Humberto, which peaked as a Category 1 hurricane.



Season summary map

So far no hurricanes have hit the USA during this season even though two are predicted by weather scientists to make landfall. Only one tropical storm has done so (Karen).

In May 2013 NOAA's pre-season outlook for the 2013 Atlantic hurrican season was the following:

"For the six-month hurricane season, which begins June 1, NOAA's Atlantic Hurricane Season Outlook says there is a 70 percent likelihood of 13 to 20 named storms (winds of 39 mph or higher), of which 7 to 11 could become hurricanes (winds of 74 mph or higher), including 3 to 6 major hurricanes (Category 3, 4 or 5; winds of 111 mph or higher).
These ranges are well above the seasonal average of 12 named storms, 6 hurricanes and 3 major hurricanes."

Their August 2013 revision was similar as follows:

"The updated outlook calls for a 70 percent chance of an above-normal season. Across the Atlantic Basin for the entire season – June 1 to November 30 – NOAA's updated seasonal outlook (which includes the activity to date of tropical storms Andrea, Barry, Chantal, and Dorian) projects a 70 percent chance for each of the following ranges:
13 to 19 named storms (top winds of 39 mph or higher), including
6 to 9 hurricanes (top winds of 74 mph or higher), of which
3 to 5 could be major hurricanes (Category 3, 4 or 5; winds of at least 111 mph)
These ranges are above the 30-year seasonal averages of 12 named storms, six hurricanes and three major hurricanes."

The peak of hurricane season passed by over a month ago on 10 September with the first named hurricane (Humberto) forming the day after but did not strike the USA. Only 43 days left to go!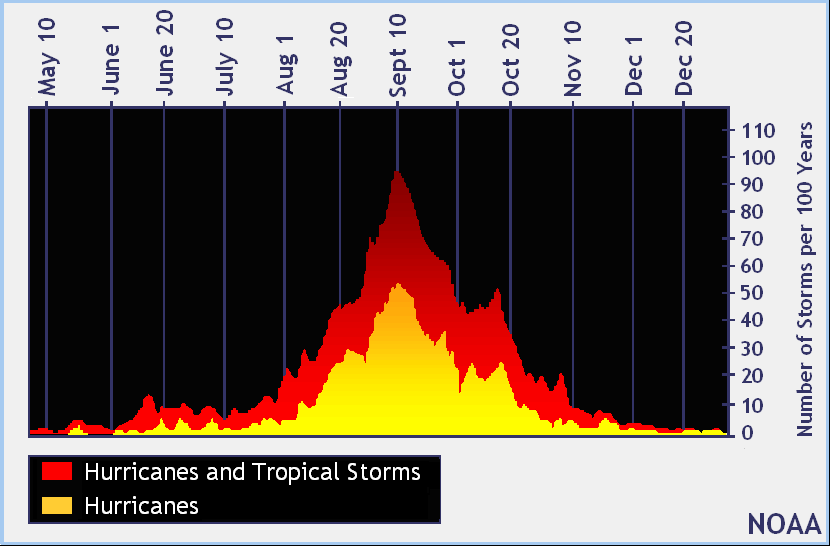 Has there been a year where no hurricanes hit the USA? What are the odds that none will hit the USA? What will the eco-nuts like Al Gore say if this happens? What will the NOAA's reaction be? More excuses?

---
TOPICS: History; Science; Weather
KEYWORDS: agw; hurricane; lack; usa
---
Navigation: use the links below to view more comments.
first 1-20, 21-25 next last
---
---
---
---
---
---
---
---
---
---
---
---
---
---
---
---
---
---
---
---
---
Navigation: use the links below to view more comments.
first 1-20, 21-25 next last
---
---