---
Woman's car invites confusing compliments
Lark News ^
Posted on 11/09/2013 9:03:10 AM PST by Gamecock
---
Navigation: use the links below to view more comments.
first previous 1-20, 21-25 last
---
To: mikrofon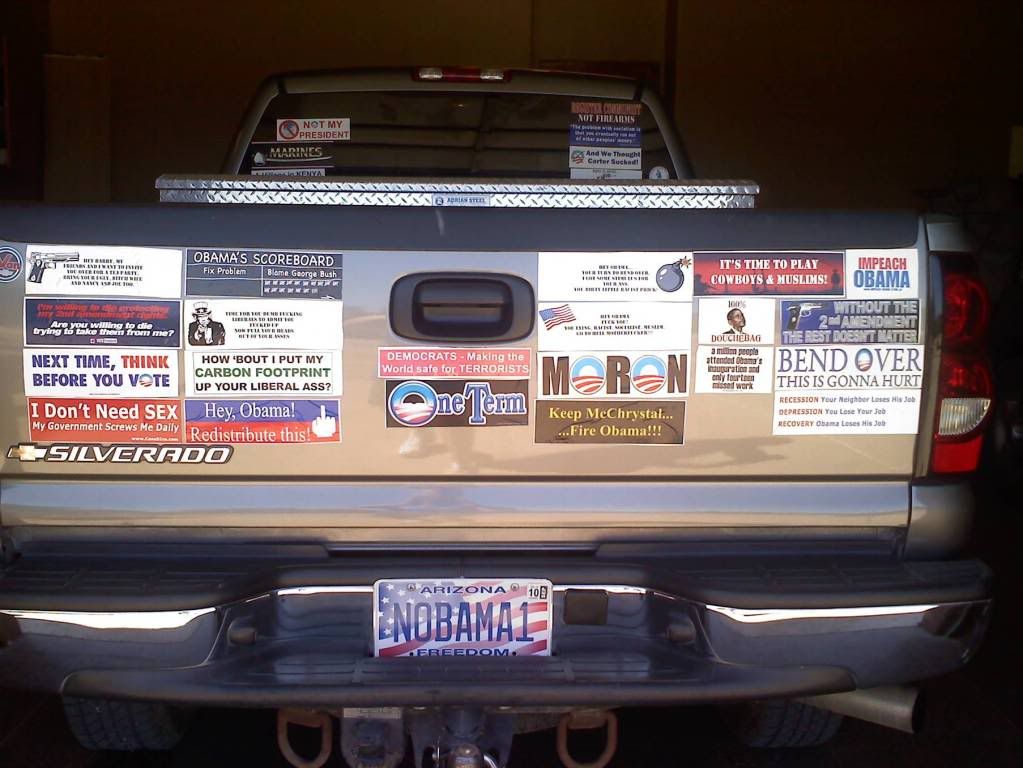 21
posted on
11/09/2013 11:25:01 AM PST
by
Windflier
(To anger a conservative, tell him a lie. To anger a liberal, tell him the truth.)
---
To: ctdonath2
Likewise I knew someone who liked hanging a rainbow flag in her window.
Until I explained what it meant.
A lady and her husband used to van pool with me and she wanted a rainbow sticker for their car "cause it was cute". When he told her what it meant, she changed her mind very quickly.

22
posted on
11/09/2013 11:28:20 AM PST
by
Arrowhead1952
(The Second Amendment is NOT about the right to hunt. It IS a right to shoot tyrants.)
---
To: Dilbert San Diego
Shame it doesn't also have an altered sticker showing a four-legged fish and "Darwin" instead of "Icthus". The person who dreamed up this farce didn't exhibit a very fertile imagination.
The lady's photo they used looks a lot like Betty White....she occasionally plays the role of a ditzy woman who has no idea what's going on and makes silly double entendre remarks...like THIS gal.
This story strikes me as a lame knockoff of the story of the gullible old woman with the "Honk if you love Jesus" farce that went around the net awhile back.
---
To: mikrofon
Last time I saw a car with that many bumper stickers, I pulled along side it, lowered my window and when the other person did the same I told him some complete idiot vandalized their car with all those liberal bumper stickers. I would laugh and drive off.
24
posted on
11/09/2013 1:31:14 PM PST
by
EQAndyBuzz
("Senator Cruz basically made the Democrats fight for a whole bunch of things that they already had.")
---
To: EQAndyBuzz
My sticker says infidel with a big thumbs up sign.
This is a true story:
I was going to a gun show in a large city nearby..a few yrs. ago...In the passenger seat was Rod my giant "once was a marine and still thinks he is" friend of 30 yrs..As we drove down a nasty street on the way...lots of traffic....at about 30 mph .....I noticed a caddy swerving back and forth behind us.....It flew up on Rods "passenger side " The caddy was new .... had Huge chrome wheels and a large black guy driving it....he had his window down and was half way out of it...... swerving,screaming and waving his arms...... and ......................thats all I saw a glance.............because before Rod could get his window down to figure out what all the yelling was for that caddy just disappeared........I looked in the rear view mirror and there were little car parts rolling in the lane behind me.....as I looked closer I realized that caddy had crashed himself into a parked car!
That guy got so wound up over my sticker...that he crashed.
Anyway I like bumper stickers...I think the freedom they represent is important...as are all forms of honest communication between participants in a society. Maybe random exchange of perspective the most valuable aspect of that communication?
Probably they will be banned soon.
Oh well
---
Navigation: use the links below to view more comments.
first previous 1-20, 21-25 last
---
---
FreeRepublic.com is powered by software copyright 2000-2008 John Robinson