---
Woolly Mammoths Are Coming Back, Say Cloning Scientists
DVICE ^ | March 14, 2014 | Michael Trei


Posted on 03/16/2014 10:39:35 AM PDT by DogByte6RER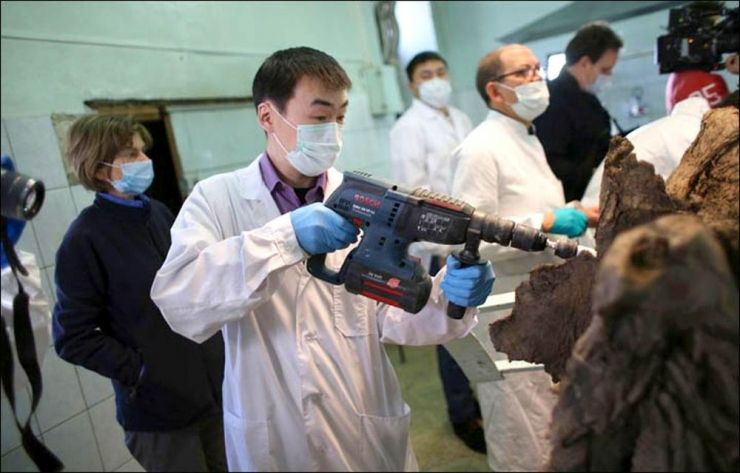 Woolly mammoths are coming back, say cloning scientists
In what sounds like it could be the plot for the next Jurassic Park movie, a team of scientists in Siberia says there's a 'high chance' that they will be able to clone a woolly mammoth.
The breakthrough comes as a result of last year's discovery of an incredibly well-preserved mammoth carcass, frozen in the permafrost of Siberia's Malolyakhovskiy island. The scientists estimate that the animal is about 43,000 years old, and was 50-60 years old when it died in distress after getting stuck in the ice. In the ten months since the discovery, the international team has been carefully thawing out various parts of the animal to extract tissue and blood samples, and they say the results are remarkable.
Woolly mammoths became extinct over 4,000 years ago, but we have been able to learn a lot about them through discoveries like this one. Radik Khayrullin from the Russian Association of Medical Anthropologists says that this discovery is so well-preserved that they should be able to take things to a whole new level. Viktoria Egorova, chief of the Research and Clinical Diagnostic Laboratory of the Medical Clinic of North-Eastern Federal University, says that they have found haemolysed blood containing erythrocytes, along with migrating cells in the lymphoid tissue, all key to making the cloning process work.
Should they decide to go ahead with trying to create a clone, Khayrullin says that the resulting animal will not be identical to what used to walk the Earth. For starters, they will be using a female elephant as a surrogate mother. Then of course there are a host of ethical questions that need to be answered. Khayrullin says that they are not trying to play God, but that it's important to have the right motives. "We must have a reason to do this, as it is one thing to clone it for scientific purpose, and another to clone for the sake of curiosity." In other words, they should only do it to advance scientific understanding, not just because they think it would be a neat thing to do.
Let's just hope they don't run into some rich guy who wants to make a male and female pair, so he can put them on display in an island amusement park.

---
TOPICS: Chit/Chat; History; Pets/Animals; Science; Society; Weird Stuff
KEYWORDS: bc; bioethics; cloning; dna; genetics; godsgravesglyphs; helixmakemineadouble; japan; jurassicpark; mammoth; mammoths; playinggod; pleistocenepark; prehistoric; russia; siberia; weirdscience; woollymammoth
---
Navigation: use the links below to view more comments.
first 1-20, 21-40, 41-60, 61-80, 81 next last
---
---
---
---
---
---
---
---
---
---
---
---
---
---
---
---
---
---
---
---
---
Navigation: use the links below to view more comments.
first 1-20, 21-40, 41-60, 61-80, 81 next last
---
---