---
To: jazusamo
I remember the first one at our local dealer. It was an attractive car tho that particular one had a six cylinder and a 3 speed manual on the floor. That was 1964 and I still remember the kid whose family bought that first one.
The thing which surprised people was the price. It was something like $2400.00 or not much more than a falcon. Of course that is really what it was, just a more stylish Falcon.
Even the Falcon had a powerful V8 option tho I think the Mustang may have had a higher top HP rating a 271 HP V8 was available. That was a lot out of a 289.
19
posted on
03/24/2014 2:13:26 PM PDT
by
yarddog
(Romans 8: verses 38 and 39. "For I am persuaded".)
---
To: yarddog
I remember that well, I think Ford tagged it as a 64 1/2 Mustang, the 65 came out a short time later in 65 if I remember right.
I nearly bought a 65 but they wouldn't knock a dime off the sticker price so I walked, wish I had it now.
23
posted on
03/24/2014 2:21:53 PM PDT
by
jazusamo
([Obama] A Truly Great Phony -- Thomas Sowell http://www.freerepublic.com/focus/news/3058949/posts)
---
To: yarddog
I had one of these. $3,300 brand new from Jerry Alderman Ford.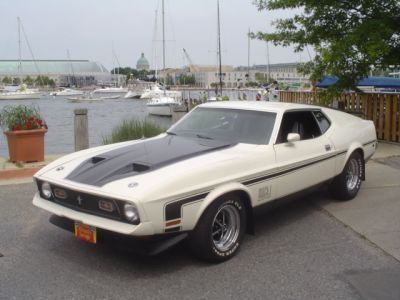 I'd still have it if it hadn't been stolen while I was at a Cubs/Cardinals game June 22, 1984.

30
posted on
03/24/2014 2:33:53 PM PDT
by
henkster
(I don't like bossy women telling me what words I can't use.)
---
To: yarddog
The first Mustangs had a 260 ci V8 option, before the 289.
The 64 1/2 was featured in a James Bond movie and launched the mustang to the US market.
Whatever some here say, our '09 GT/CS was a very cool car. It has now become an F-150 since we moved to the high Rockies and the 15 mile dirt road would have ruined that fine ride.

60
posted on
03/24/2014 3:51:23 PM PDT
by
MileHi
( "It's coming down to patriots vs the politicians." - ovrtaxt)
---
To: yarddog
The Falcon was a stodgy looking old lady sedan, but they shared engines with the Mustang models, and I think their curb weight was a bit lighter (the electrical system wasn't the best either), so the Falcon would pretty much go like a raped ape. :') I wouldn't mind having one of the couple of those that ran through the hands of various family members back at that time.
---
FreeRepublic.com is powered by software copyright 2000-2008 John Robinson