---
***THE OFFICIAL FRIDAY SILLINESS THREAD***
Posted on 05/02/2014 5:35:07 AM PDT by Lucky9teen
Welcome to the Silliness Thread!
Just join right in, post your funny pictures, jokes, comments and random humor and it will make every ones day better.
THIS JUST IN...
A public school teacher was arrested today at Tampa International Airport as he attempted to board a flight while in possession of a ruler, a protractor, a compass, a slide-rule and a calculator. At a morning press conference, Attorney General Eric Holder said he believes the man is a member of the notorious Al-Gebra movement.
He did not identify the man, who has been charged by the FBI with carrying weapons of math instruction. "Al-Gebra is a problem for us", the Attorney General said. "They derive solutions by means and extremes, and sometimes go off on tangents in search of absolute values. They use secret code names like 'X' and 'Y' and refer to themselves as 'unknowns' but we have determined that they belong to a common denominator of the axis of medieval with coordinates in every country. As the Greek philosopher Isosceles used to say, 'There are 3 sides to every triangle.'"
When asked to comment on the arrest, 0bama said, "If God had wanted us to have better weapons of math instruction, He would have given us more fingers and toes." White House aides told reporters they could not recall a more intelligent or profound statement by the President. It is believed that another Nobel Prize will follow.
A Lesson Learned
Recently, while I was working in the flower beds in the front yard, my neighbors stopped to chat as they returned home from walking their dog. During our friendly conversation, I asked their little girl what she wanted to be when she grew up.
She said she wanted to be President some day. Both of her parents, Democratic Party members, were standing there so I asked her, "If you were President what would be the first thing you would do?"
She replied... "I'd give food and houses to all the homeless people." Her parents beamed with pride! "Wow...what a worthy goal!" I said. "But you don't have to wait until you're President to do that!" I told her.
"What do you mean?" she replied.
So I told her, "You can come over to my house and mow the lawn, pull weeds, and trim my hedge, and I'll pay you $50. Then you can go over to the grocery store where the homeless guy hangs out, and you can give him the $50 to use toward food and a new house."
She thought that over for a few seconds, then she looked me straight in the eye and asked, "Why doesn't the homeless guy come over and do the work, and you can just pay him the $50?"
I said, "Welcome to the Rebublican Party." Her parents aren't speaking to me anymore.
---
So....now Apple supports Windows? Cool
Oil Check
A lot of folks can't understand how we came to have an oil shortage here in our country. Well, there's a very simple answer.
Nobody bothered to check the oil. We just didn't know we were getting low.
The reason for that is purely geographical. Our OIL is located in:
Alaska
California
Coastal Florida
Coastal Louisiana
Coastal Alabama
Coastal Mississippi
Coastal Texas
North Dakota
Wyoming
Colorado
Kansas
Oklahoma
Pennsylvania
And Texas
Our dipsticks are all located in Washington.

Any Questions?

NO?

Didn't think so.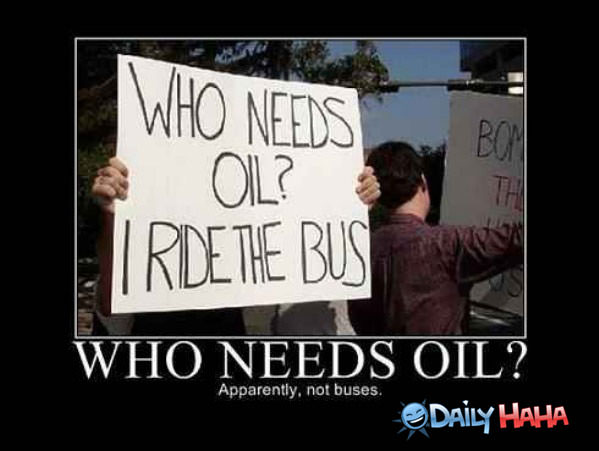 ---
TOPICS: Humor
KEYWORDS: friday; ofst; racism; silliness
---
Navigation: use the links below to view more comments.
first 1-20, 21-40, 41-60, 61-80 ... 121-137 next last
---
---
---
---
---
---
---
---
---
---
---
---
---
---
---
---
---
---
---
---
---
Navigation: use the links below to view more comments.
first 1-20, 21-40, 41-60, 61-80 ... 121-137 next last
---
---