---
***THE OFFICIAL FRIDAY SILLINESS THREAD***
Posted on 07/11/2014 5:57:18 AM PDT by Lucky9teen
Cheer Up the Lonely Day
When : July 11th
Cheer Up the Lonely Day is an opportunity to make a lonely person happy. Any time you can make someone happy, you've done a good thing, and should be proud of yourself.
Lonely people have few friends and loved ones. They may have lost loved ones over the years. They may be elderly. They see people on an infrequent basis.
Spend some time today cheering up lonely people. It's easy to do.....just spend some time with them. When you visit, bring happy things to talk about. Keep the conversation upbeat, and lively. When you leave, give a big hug and let them know you enjoyed the stay. Sending cards or making a phone call is okay, only if they live too far away to visit. What a lonely person really needs, is face to face time with other people.
---
Adam was wandering around the Garden of Eden feeling very lonely, when he heard a loud voice ask him, "What is wrong with you?"
Adam said he didn't have anyone to talk to, and he was feeling very lonely.
Then the loud voice said he was going to give him a companion and it would be a woman. The voice continued, saying; "this person will cook for you and wash your clothes, she will always agree with every decision you make. She will bear your children and never ask you to get up in the middle of the night to take care of them. She will not nag you, and will always be the first to admit she was wrong when you've had a disagreement. She will never have a headache, and will freely give you love and compassion whenever needed."
Adam thought that sounded great, so he asked "What would a woman like this cost me??"
The voice answered, "an arm and a leg."
Adam thought about that for a moment. He thought that would be a pretty high price to pay, so he then asked, "What can I get for just a rib???"
The rest is history...
Harry, the newest resident at the nursing home, is an old 85-year-old man whose wife passed away a few months ago. He rarely leaves his room, while trying to adjust to nursing home life. On occasion, he is seen sitting on a couch in one of the main living rooms, staring out the window with tears in his eyes.

Delores, another resident in her 80s, noticed Harry's sobbing one afternoon. Feeling bad for him, she approached calmly and asked what was bothering him so much.

"I'm so lonely," said Harry, "Without my wife here, I feel alone. Will you come sit here with me and keep me company?"


Compelled to make a new friend and to ease his pain, she takes a seat next to him. His sobbing gets a bit more intense.

Harry continued by saying, "Every afternoon, at about this time in the late afternoon, my wife and I would make love. We did it every day for 60 years."

Delores felt pretty bad for him, but was caught off guard when he grabbed her hand and placed it on his inner thigh.

After about ten minutes, Harry looked at her and asked, "Would you do me a kind favor for a lonely old man?"

"Sure Harry, what is it?" asked Delores.

"If I unzip my trousers, would you just hold it for a few minutes? It would really put me at ease," he said.

"Oh, Harry, I don't know about that." she replied.


His sobbing got even more intense. Delores was feeling really bad for him, so after a minute or so, she gave in and agreed to hold his member.

At first, it was an uncomfortable feeling for her. But after a half-hour of it, she became more at ease with the idea. As the early dinner bell rang, Harry zipped back up and said, "I would really appreciate it if you would come back and meet me here again tomorrow at 4:00."

She reluctantly agreed. And so it went the next day. And the next day. And the next. This went on for a couple of weeks, that they would sit on the couch, with her holding his shriveled up buddy and staring out the window together. It became something of a relationship for her - Delores was actually looking forward to it every morning she woke up.

Then one afternoon at 4:00, she walked to the living room and Harry wasn't there. She checked his room to no avail. She searched the nursing home high and low, asking people if they had seen him. Finally, she found another old man who said he saw Harry sitting on the bench in the garden.

So, Delores went out there and saw him sitting with another woman. As she got closer, she saw the old lady holding his member.

"What the hell are you doing Harry?" she asked with an obviously angry tone. "How could you do such a thing to me? What does she have that I don't, Harry?"

Harry looked up at her, and shrewdly answered, "Parkinson's"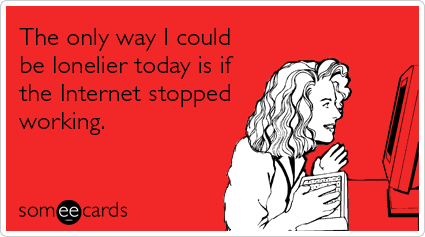 ---
A Kansas farm wife called the local phone company to report her telephone failed to ring when her friends called - and that on the few occasions, when it did ring, her dog always moaned right before the phone rang.
The telephone repairman proceeded to the scene, curious to see this psychic dog or senile lady. He climbed a telephone pole, hooked in his test set, and dialed the subscriber's house.
---
---
In parochial school students are taught that lying is a sin. However, instructors also advised that using a bit of imagination was OK to express the truth differently without lying. Below is a perfect example of those teachings:
Getting a Hairdryer Through Customs.
---
TOPICS: Humor
KEYWORDS: allalone; lonely; ofst; silliness
---
Navigation: use the links below to view more comments.
first 1-20, 21-40, 41-60, 61-72 next last
---
---
---
---
---
---
---
---
---
---
---
---
---
---
---
---
---
---
---
---
---
Navigation: use the links below to view more comments.
first 1-20, 21-40, 41-60, 61-72 next last
---
---