---
***THE OFFICIAL FRIDAY SILLINESS THREAD***
Posted on 07/18/2014 5:26:53 AM PDT by Lucky9teen
During a World Economic Summit, Barack Obama, Mexican President Felipe Calderón, Russian Prime Minister Vladimir Putin, and French President Nicolas Sarkozy are ceremonially riding in Japan's newest bullet train. As you might know all of these political leaders have big egos and this is what ensued.
Barack Obama says, "This is a fine bottle of wine Nicolas".
Upon hearing this, President Nicolas Sarkozy throws out a case of France's finest wine and says, "In France, fine wine is bountiful and plenty!"
Not to be outdone by Vladimir Putin, who then throws out two cases of Russia's finest Vodka, "In Russia, premier vodka spirits flow like the Volga River".
President Obama not wanting to seem weak, thinks for a moment, looks at Mexican president Felipe Calderón, and throws him out the window.
---
A US Border Patrol Agent catches an illegal immigrant in the bushes right by the border fence in Texas, he pulls him out and says "Sorry, you know the law, you've got to go back across the border right now."

The Mexican man pleads with them, "No, noooo Senior, I must stay in de USA! Pleeeze!"

The Border Patrol Agent thinks to himself, I'm going to make it hard for him and says "Ok, I'll let you stay if you can use 3 english words in a sentence."

The Mexican, of course, agrees.

The Border Patrol Agent tells him, "The 3 words are Green, Pink and Yellow.......Now use all them in 1 sentence."

The Mexican man thinks really hard for about 2 minutes, then says, "Hmmm, Ok...... The phone, it went Green, Green, Green, I Pink it up and sez Yellow?"
A Russian arrives in New York City as a new immigrant to the United States . He stops the first person he sees walking down the street and says, "Thank you Mr. American for letting me into this country, giving me housing, food stamps, free medical care, and a free education!"

The passerby says, "You are mistaken, I am a Mexican."

The man goes on and encounters another passerby. "Thank you for having such a beautiful country here in America ."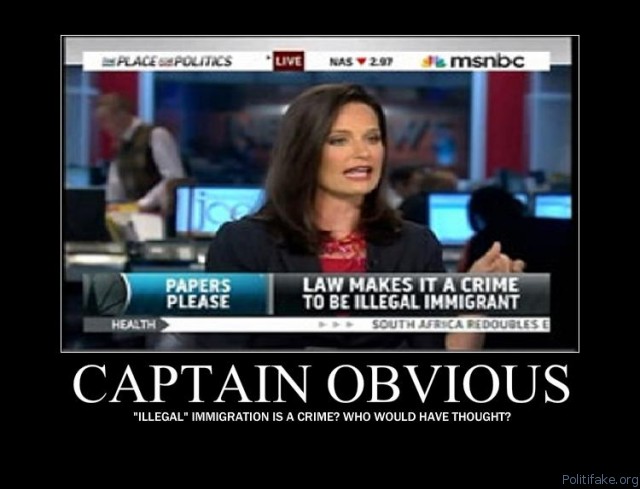 The person says, "I not American, I Vietnamese."

The new arrival walks farther, and the next person he sees he stops, shakes his hand, and says, "Thank you for wonderful America !

That person puts up his hand and says, "I am from Middle East . I am not American."

He finally sees a nice lady and asks, "Are you an American?"

She says, "No, I am from Africa ."

Puzzled, he asks her, "Where are all the Americans?"
The African lady checks her watch and says, "Probably at work.."


---
TOPICS: Humor
KEYWORDS: border; illegals; ofst; silliness
---
Navigation: use the links below to view more comments.
first 1-50, 51-84 next last
---
---
---
---
---
---
---
---
---
---
---
---
---
---
---
---
---
---
---
---
---
---
---
---
---
---
---
---
---
---
---
---
---
---
---
---
---
---
---
---
---
---
---
---
---
---
---
---
---
---
---
Navigation: use the links below to view more comments.
first 1-50, 51-84 next last
---
---