---
Ancient human ancestor 'Little Foot' makes public debut
CNN ^ | Updated 8:47 AM ET, Wed December 6, 2017 | By David McKenzie


Posted on 12/06/2017 8:25:42 AM PST by Red Badger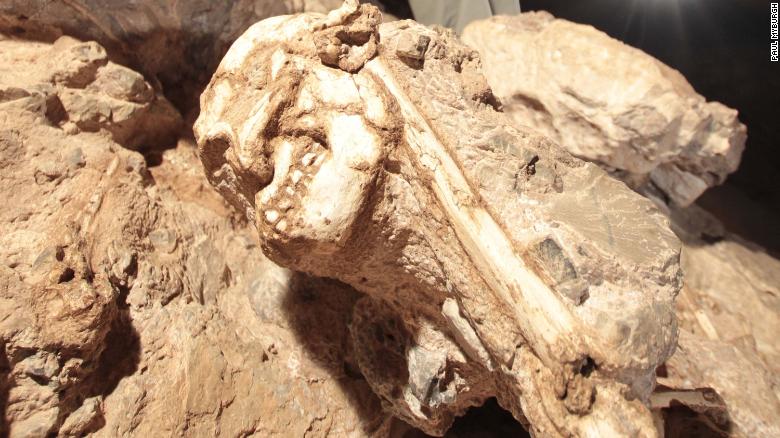 The Little Foot fossilized skeleton could date back 3.67 million years.
============================================================================================
Johannesburg, South Africa (CNN)South Africa's Cradle of Humankind, an expanse of farmland and rolling hills outside Johannesburg, has already unlocked some of the great mysteries of evolution. The unveiling of a near-complete fossil hominid skeleton dating back 3.67 million years will only solidify the importance of the region. "Little Foot" is the oldest fossil hominid skeleton ever found in Southern Africa, the lead scientist examining the discovery said on Wednesday. The fossil skeleton takes its name from the small foot bones discovered by scientist Ron Clarke in 1994 when he was sorting through bones in boxes from the Sterkfontein cave system. Even then, Clarke surmised that the fossilized bones came from an Australopithecus species -- the smallish, ape-like human ancestors that roamed this part of Africa millions of years ago. In 1997 he found more bones in a cupboard at the medical school of the University of the Witwatersrand. The rest of Little Foot was found embedded in the calcified ancient cave in 1997 and the excavation, cleaning, reconstruction, casting and analysis took 20 years. Much of the work was done deep inside the cave system, working away at concrete-like rock called breccia, using air scribes to avoid breaking the fragile and priceless fossil remains.

(Excerpt) Read more at cnn.com ...
---
TOPICS: Education; History; Outdoors; Science
KEYWORDS: australopithecus; ggg; godsgravesglyphs; homonaledi; paleontology; prometheus
---
Navigation: use the links below to view more comments.
first 1-20, 21-33 next last
---
---
---
---
---
---
---
---
---
---
---
---
---
---
---
---
---
---
---
---
---
Navigation: use the links below to view more comments.
first 1-20, 21-33 next last
---
---