---
Pork pulled: Plug jerked out of beacon of bacon delight (BACON THREAD ALERT!)
The Register ^ | Dec 18, 2018 | Richard Speed


Posted on 12/20/2018 7:18:33 PM PST by dayglored

Student vending machine project comes to a close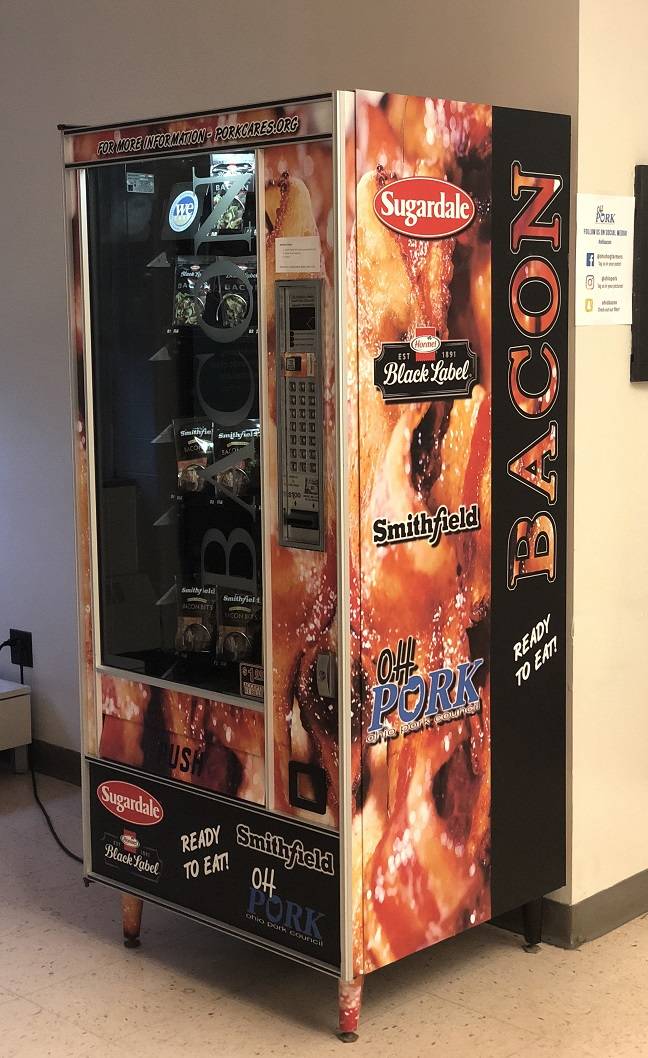 The Vending Machine
It is with great sadness that we must announce the passing of the Ohio Pork Council's bacon vending machine after an all-too-short sojourn at the Meat Sciences Department of Ohio State University.
The vending machine allowed hungry students to sate their penchant for porcine produce with just a $1 bill. Alas, all good things must come to an end and, as scheduled, the plug has been pulled on the pilot piggy project that ran from the 6th to 13th December.
The OPC pitched the wonderful machine as a way of "giving back to the community" and declared itself pleased with how things went. The thing needed to be restocked five times a day on average, such was the popularity, and the proceeds came to around $425. All of which went into the American uni's Meat Science Program.
We struggled to come up with a suitable caption for the queue of bacon fans awaiting their fix, so would invite readers to make use of the comments selection below to help us out.
Two of the machine's sponsors, and providers of the bacon-based treats, Smithfield and Sugardale were similarly chuffed to be involved, with the chief marketing officer of the former, Tim Zimmer, declaring the concept a "celebration of everyone's love for bacon", and director of marketing for the latter, Britany Julian, saying "the world has this seemingly endless love affair with bacon".
Indeed we do, Britany.
A third sponsor, Hormel, has yet to comment.
Emily Bir, director of communications for the OPC, told The Register that the organisation has seen plenty of interest in the project, before declaring that the group was "extremely thankful to have been able to turn this dream of a bacon vending machine into a reality". Dream big, Emily.
Bir also mentioned a trip taken by the machine to New York for an appearance on popular US cable show Fox & Friends. An unkind person might suggest a machine stuffed with bacon stands a better chance of delivering incisive commentary than several of the hosts. Make Bacon Great Again indeed.
There are no immediate plans for the vending machine, which now stands forlorn and empty. Bir has, however, urged interested parties to get in touch with the OPC to find out more about future opportunities.
In the meantime, farewell, bacon vending machine. We hardly knew thee. No flowers.
Just bacon. ®
Original bacon vending machine article: Peak tech! Bacon vending machine signals apex of human invention

---
TOPICS: Business/Economy; Cheese, Moose, Sister; Food
KEYWORDS: bacon; vendingmachine
---
Navigation: use the links below to view more comments.
first 1-20, 21-27 next last
---
---
---
---
---
---
---
---
---
---
---
---
---
---
---
---
---
---
---
---
---
Navigation: use the links below to view more comments.
first 1-20, 21-27 next last
---
---