---
To: LibertyRocks
As the day has passed and I have considered the events and Governor Sarah Palin's outstanding, all-American speech last night...I am more and more convinced that this good woman has in fact been preserved there in Alaska...quietly (to the rest of us here in the lower 48, or as they say up there us here in the "outside") respondiong to the promptings of her own heart to get involved and accomplishing much in her own right as she was prepared to be there to come to America's aid when John McCain made this inspired call...and I believe McCain was inspired in this choice.
Amazing. Despite all the planning, the positioning, the buying of influence, the pedaling of influence, and the rock star blitz of the other side...we are seeing that, IMHO, the good Lord can prepare something off to the side that wholly undoes all of that wrangling.
That's what we are seeing here IMHO.
HOW THE PALIN PICK TRUMPS OBAMA-BIDEN
5
posted on
09/04/2008 7:11:45 PM PDT
by
Jeff Head
(Freedom is not free...never has been, never will be. (www.dragonsfuryseries.com))
---
To: Jeff Head; Izzy_Box; grey_whiskers
I couldn't agree with you more, Jeff! The Lord indeed works in mysterious ways. If we, as Christians (and even agnostics, or atheists can see the paralell here if they are willing to admit it) - if we take a step back and look this election is a lesson to us...
First, it warns us how easy it will be when a False Prophet, or the Anti-Christ himself comes on the scene to get so many people be swept up in rhetoric, and good feelings - fleeting things that do nothing to make them better people, and indeed end up hurting the very people they think they are helping. Evil builds upon people's hate, and that is definitely something the "Left" is "rich" in right now... Hate with no clearly defined definition - they don't even KNOW what they're angry about, but they've picked their scapegoat(s).
Second, with Sarah Palin now on the scene it proves to us that God is STILL with us. He is speaking to the hearts and minds of Americans (and others around the world) like Sarah Palin. He fills us with the strength and courage to stand up - sometimes against remarkable odds. Even if McCain and Palin DON'T win in November (which doesn't seem likely now...), I think Christians, and particularly Christian Women will be much more likely to stand up against the "Death-embracing" left. With God on our side, we cannot fail. The "good guys" ALWAYS win in the end!
FYI - Here are two version of the bumper sticker thought up by Grey_Whiskers, by this very thing we are discussing...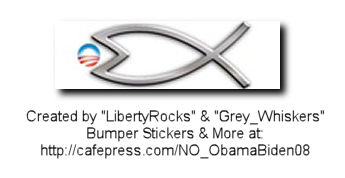 6
posted on
09/04/2008 7:46:18 PM PDT
by
LibertyRocks
(BLOG: http://libertyrocks.wordpress.com ~ Anti-Obama Gear: http://cafepress.com/NO_ObamaBiden08)
---
FreeRepublic.com is powered by software copyright 2000-2008 John Robinson