---
To: 2ndDivisionVet
I understand he won most counties in Florida too.
---
To: freemarketsfreeminds
Maybe not. Where can I find good information?
---
To: freemarketsfreeminds
Not just the counties...Note the figures were actually taken from a NYT article.
According to NPR via NYT
NEWT leads Mitt 39-32
when FL vote divided per RNC rules!
Pass the word!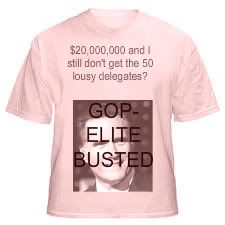 Click to Donate to Newt Gingrich
CONTACT FOR RNC: website@nrcc.org
310 First Street
Washington DC 20003
Encourage them to do the RIGHT thing, end the FL fiasco NOW, Play by the rules!
Michael Steele, who was president of the RNC when the rule was past said that Florida had no business giving all delgates to Romney, and the current pres. of RNC wrote a letter in Dec. telling them the vote was to be distributed.
All media is spreading the meme that "Romney won by large numbers", when he didn't. Romney has sent out spokes people who repeat the meme. If you are familiar with Alinsky it is a way to dishearten Newt's followers.
DO NOT BE DISHEARTENED......FIGHT BACK! See my tagline join the cause.

22
posted on
02/04/2012 3:04:35 PM PST
by
hoosiermama
(FR Unite... Get active contacting MSM, RNC. etc... freepmail : Mountain Mary.)
---
FreeRepublic.com is powered by software copyright 2000-2008 John Robinson