---
Who Won the Debates? 49% Say Romney, 41% Obama (Rasmussen FOR SUBSCRIBERS ONLY)
http://www.rasmussenreports.com/public_content/politics/elections/election_2012/election_2012_presidential_election/october_2012/who_won_the_debates_49_say_romney_41_obama ^
Posted on 10/25/2012 12:41:24 PM PDT by Massimo75
"Among voters who watched the debates, 49% say Romney was the winner. Forty-one percent (41%) think President Obama came out on top.
Four years ago, 47% of voters said Obama was the overall winner of the three dates, while 33% thought Republican nominee John McCain had been victorious.
Republicans this year are a bit more confident in their nominee's performance than Democrats are: 84% of GOP voters who watched the debates think Romney was the overall winner, compared to 78% of Democrats who feel Obama was the champ. Among voters not affiliated with either of the major parties, the GOP challenger was seen as the winner by a 50% to 31% margin.
Forty-eight percent (48%) of all voters who watched the debates believe Romney explained his positions more clearly than the president did, while nearly as many (45%) think Obama did a better job explaining where he stands."

---
TOPICS: Polls
KEYWORDS: 2012debates; debates; obama; romney



---
To: Massimo75
41%! Interestingly, the Kenyan Marxist doesn't come close to his usual 47% number in this survey. Makes sense, as he truly stunk in those debates, and some of his worshipping adherents agree.
---
To: Massimo75
Ever get a close look at these dummies that kiss King Obama's feet. Simple minds hailing the simple communists mind King Obama.

---
To: Massimo75
BO: Lame duck.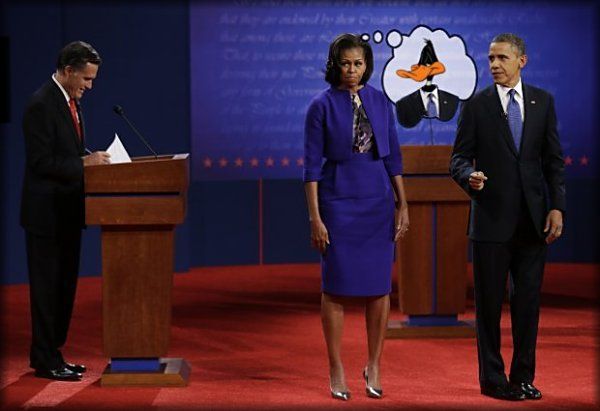 ---
To: clearcarbon
If Romney wins this election he needs to frame this picture over his desk. It caught the moment when "everything changed".
---
FreeRepublic.com is powered by software copyright 2000-2008 John Robinson