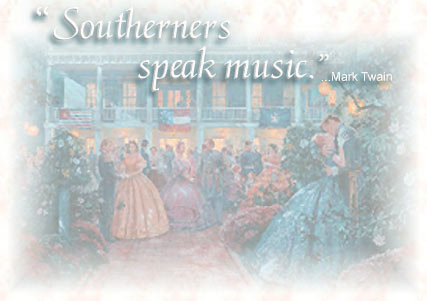 How Louisiana came to be...
The Louisiana region was settled by Indians in prehistoric times, at least as early as 6,000 years ago. At the time of European exploration in the 16th century, there were more than 10,000 Indians in Louisiana. However, authentic recorded history of this area doesn't actually begin until 1682. It was then that Sierra de La Salle, the French explorer, reached the mouth of the Mississippi, claimed all its drainage basin for France, and named the area Louisiana to honor Louis XIV.



Many flags have flown over what
is now the state of Louisiana....



No other state has a more varied or colorful past than Louisiana. The state has been governed under 10 different flags beginning with Hernando de Soto's claim of the region for Spain. La Salle later claimed it for Bourbon France and over the years Louisiana was at one time or another subject to the Union Jack of Great Britain, the Tricolor of Napoleon, the Lone Star flag of the Republic of West Florida and the fifteen stars and stripes of the United States. At the outbreak of the Civil War, Louisiana became an independent republic for six weeks before joining the Confederacy.

Earlier, in 1803, Louisiana had become a part of the United States because of the region's importance to the trade and security of the American mid-west. New Orleans and the surrounding territory controlled the mouth of the Mississippi River down which much of the produce of the mid-west traveled to reach market. To get the vital region in American hands, President Thomas Jefferson negotiated the Louisiana Purchase with Napoleon.

With the acquisition of Louisiana, Jefferson nearly doubled the size of the fledgling U.S. and made it a world power. Later, 13 states or parts of states were carved out of the Louisiana Purchase territory.



The state flag of Louisiana...

The design consists of the pelican group from the state seal, in white and gold, and a white ribbon bearing the state motto, "Union, Justice, and Confidence", on a field of a solid blue. This flag was adopted in 1912.

Baton Rouge became the capitol of Louisiana in 1846 and remained so until 1862 and the onset of the Civil War. The capitol changed locations several times and Baton Rouge was designated the permanent capitol in 1879. A bit of trivia.....the capitol building is the tallest of any state capitol - it is 450 feet tall with 34 floors.

What comes to mind when you think of Louisiana? Southern Belles and beautiful plantations? Bayous, alligators and crawfish? Mardi Gras and Bourbon Street? Mint juleps, shrimp boats and Jambalaya? Because I love food, especially spicy hot food, when I think of Louisiana, my thoughts turn to Cajun cookin'- or, is it Creole cookin'? And, what's the difference anyway?

Well, according to this website, "ABOUT LOUISIANA CUISINE"......"Most Louisiana chroniclers claim the answer is simple. Many Creoles were rich planters and their kitchens aspired to grande cuisine. Their recipes came from France or Spain as did their chefs. By using classic French techniques with local foodstuffs, they created a whole new cuisine, Creole cooking."




"On the other hand, the Acadians, pronounced (uh-CADE-ee-uns), later contracted to "Cajun", were a tough people used to living under strenuous conditions. They tended to serve strong country food prepared from locally available ingredients. It was pungent, peppery and practical since it was all cooked in a single pot. Thus Cajun cuisine was born.

There is one rule that both the Creoles and Cajuns agree upon and that is that there is no one rule and no one recipe when it comes to matters of food. There are hundreds of different recipes for gumbo, jambalaya, turtle soup and they are all right because no one is wrong. Privately, they know that everything they cook is original, because their kitchens are kitchens of "ad lib". They are experimenting, creating, changing, always trying to make it taste better."






"When the taste
changes with every
bite and the last
bite tastes as good
as the first,
....that's Cajun."
- Paul Prudhomme






So, there you have it, that's the difference between Cajun and Creole cuisine. :-)

Famous Louisianians
Louis Armstrong musician, New Orleans
Geoffrey Beene fashion designer, Haynesville
Truman Capote writer, New Orleans
Kitty Carlisle singer, actress, New Orleans
Van Cliburn concert pianist, Shreveport
Fats Domino musician, New Orleans
Bryant Gumbel TV newscaster, New Orleans
Lillian Hellman playwright, New Orleans
Al Hirt trumpeter, New Orleans
Mahalia Jackson gospel singer, New Orleans
Dorothy Lamour actress, New Orleans
Jerry Lee Lewis singer, Ferriday
Huey P. Long politician, Winnfield
Wynton Marsalis musician, New Orleans
Jelly Roll Morton jazz musician, composer, New Orleans
Huey Newton black activist, New Orleans
Paul Prudhomme chef, Opelousas
Cokie Roberts journalist, New Orleans
Kordell Stewart football player, Marrero