---
Peterson seen driving to marina 3 times
SFChronicle.com ^ | November 14, 2003 | Henry Lee


Posted on 11/14/2003 5:32:37 AM PST by runningbear

Peterson seen driving to marina 3 times
Amber Frey not expected to testify at Modesto hearing

Peterson seen driving to marina 3 times
Amber Frey not expected to testify at Modesto hearing

Henry K. Lee, Chronicle Staff Writer Friday, November 14, 2003

--------------------------------------------------------------------------------

Modesto -- Scott Peterson drove rental cars to the Berkeley Marina three times in the days after his pregnant wife disappeared, gazing at the water before returning home to Modesto, a detective testified Thursday.

Peterson spent only a couple of minutes each time at the marina, where he had told police he went fishing the day his wife, Laci Peterson, disappeared on Christmas Eve, Modesto police Detective Al Brocchini said. Officers who tailed the double-murder suspect saw him driving erratically at one point, as if trying to elude them, the detective said.

Peterson, 31, a former fertilizer salesman, has pleaded not guilty in the slayings of his wife and their unborn son, whose bodies washed ashore in April in Richmond, a few miles north of the marina.

Laci Peterson's body was clad in tan maternity pants and a 12- to 18-inch- long piece of duct tape was "attached to the groin area," Detective Philip Owen testified Thursday.

Also on Thursday, attorney Gloria Allred said her client Amber Frey, a Fresno massage therapist who was romantically involved with Peterson, will not testify at the preliminary hearing to determine whether Peterson is tried.

"I think that if she had been called to testify at this preliminary hearing, that the defense might have chosen to re-victimize her," Allred said.

Peterson visited the marina on Jan. 5, 6 and 9, Brocchini testified Thursday, and "stared out toward the bay" each time. While driving back to Modesto on Jan. 6, Peterson "began doing countersurveillance," making U-turns and stopping on the side of the road, Brocchini said.

But during cross-examination, defense attorney Mark Geragos asked the detective if he was aware that a Modesto newspaper had reported that divers were searching for Laci Peterson in San Francisco Bay on the same days Peterson visited the marina.

Geragos also noted that Peterson's truck had been impounded by police and suggested that his client had been driving in a way to shake off reporters. "You'd rather just come to the conclusion that it's suspicious because he's returning to the scene," Geragos said.

Brocchini also testified that Frey was introduced to Peterson after a friend of Frey's met the defendant at an agricultural conference in Anaheim. After the friend discovered that Peterson was married, she confronted him on Dec. 6. Sounding tearful, he said, "Look, I'm not married. I lost my wife. Let me break it to Amber," according to Brocchini. ..........

------------------------------------------------------------------------------------------------------------------------------------------------------------------------------------------

Detective: Peterson visited bay several times before body found

Detective: Peterson visited bay several times before body found

By Harriet Ryan
Court TV
Thursday, November 13, 2003 Posted: 9:44 PM EST (0244 GMT)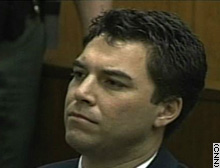 Scott Peterson
--------------------------------------------------------------------------------
MODESTO, California (Court TV) -- Two weeks after his pregnant wife went missing, Scott Peterson made three suspicious trips to the bay where her body was ultimately found, a detective testified Thursday morning.
Modesto Police Detective Al Brocchini, the lead investigator in the disappearance of Laci Peterson, said surveillance teams tailed Peterson to the San Francisco Bay January 5, 6 and 9.
On each occasion, Peterson parked at the Berkeley Marina and "stared into the bay" for a few minutes before driving away, the detective told Superior Court Judge Al Girolami.
Peterson never took his own SUV on the trips and on two occasions rented vehicles immediately before setting out for the hour and a half-long drive, the detective testified. He also said that, when Peterson discovered police were following him as he returned from the Bay January 6, he began "driving erratically" in an effort to lose them.
Peterson is accused of killing his wife in their home and then dumping her body in the bay December 24. Her remains and those of the couple's unborn son washed up on the bay shore in April. Peterson insists he was on a fishing trip in the bay when his wife vanished and had nothing to do with her murder.
The description of Peterson's brief and strange bay visits was not the only damaging testimony the detective offered Thursday, his third day on the witness stand at Peterson's preliminary hearing.
The detective also related the account of Shawn Sibley, a business associate of Peterson and the matchmaker for his extramarital relationship with masseuse Amber Frey. Sibley told the detective that, when she met Peterson at an agribusiness conference in October, he told her he was single and begged her to set him up with one of her friends.
Sibley told Brocchini she agreed "as long as Scott was serious."
"Serious about what?" prosecutor Rick Distaso asked.
"A relationship," Brocchini replied.
On December 6, a few weeks after Frey and Peterson began the affair, Sibley learned from a colleague that Peterson was married and confronted him, the detective testified.
According to Sibley's account, he told her he was a widow.
Defense attorney Geragos, left, cross-examines a witness Thursday.
"He said, 'Look, I'm not married. I lost my wife. Let me break it to Amber,'" Brocchini said. Sibley recalled Peterson sounding "extremely upset like he was crying," the detective said.
He later called back and said he had told Frey the truth: that he was a widow, the detective said.
Brocchini also cast doubt on the efforts of Peterson and his family to search for his wife. His parents and siblings established a separate tip line after becoming frustrated with the direction of the police investigation. Peterson, however, promised to turn over tips from the line to investigators. .......
----------------------------------------------------------------------------------------------------------------------------------------------------------------------------------
Peterson mistress won't testify at hearing

Amber Frey, right, who acknowledged an affair with Scott Peterson, will not testify at his hearing. By Jerome T. Nakagawa, AP
Posted 11/13/2003 6:33 PM Updated 11/13/2003 11:57 PM
Peterson mistress won't testify at hearing
By John Ritter, USA TODAY
MODESTO, Calif. — Scott Peterson's former mistress won't testify at a hearing to decide whether he will stand trial for the murder of his wife and unborn son.
Massage therapist Amber Frey, who taped her phone conversations with Peterson for police after he became a suspect, had been the most eagerly awaited witness after eight days of testimony. She was on the prosecutors' witness list, but her lawyer, Gloria Allred, said late Thursday that prosecutors told her Frey won't be called.
Prosecutors apparently want to spare her from early cross-examination by Peterson's lawyers. She is certain to testify if Peterson goes to trial next year as expected.
Allred's bombshell came on a day when defense lawyers accused police of a single-minded focus on nailing the former fertilizer salesman for the murders, ignoring other possible explanations for Laci Peterson's Christmas Eve disappearance.
Defense lawyer Kirk McAllister contended that detective Al Brocchini tried to get Peterson fired from his job and told friends he was going "to take Scott Peterson down." Brocchini denied that, insisting that every tip was pursued. "My intent was to catch, not get, whoever got Laci," he said.
When prosecutors detailed how Peterson returned three times to the spot where they say he dumped his wife's body, the defense countered that there were innocent explanations.
Brocchini said police tailed Peterson when he drove from his home here to San Francisco Bay three times in January. Once there, he got out of his car, stared briefly at the water, then left.
Prosecutors believe Peterson killed his pregnant wife and dumped her body in the bay. They'll try to prove that his purchase of a fishing boat two weeks before she vanished is evidence he planned the crime in advance. They're seeking the death penalty.
Prosecutor Rick Distaso sought to show that Peterson returned to where they allege he dumped her body, 85 miles from his home, on Jan. 5, 6 and 9.
But defense lawyer Mark Geragos said that.........
----------------------------------------------------------------------------------------------------------------------------------------------------------------------
Amber Frey Won't Take Stand At Preliminary Hearing
Amber Frey Won't Take Stand At Preliminary Hearing
Amber Frey
(ABCNEWS.com
) Nov. 13 (AP) — A lawyer for Scott Peterson's former mistress says she will not take the stand during his preliminary hearing.
Attorney Gloria Allred says that prosecutors have decided not to call Fresno massage therapist Amber Frey to testify in the hearing that will determine if Peterson stands trial in the killings of his wife and unborn son.
Allred says prosecutors determined they have presented enough evidence without Frey.
A detective testified that Frey called police about a week after Laci Peterson vanished to say she had been romantically ........
---------------------------------------------------------------------------------------------------------------------------------------------
Amber Frey will not take stand in preliminary hearing
Posted on Thu, Nov. 13, 2003
Amber Frey will not take stand in preliminary hearing MODESTO POLICE WERE SUSPICIOUS OF PETERSON FROM THE BEGINNING
By Julia Prodis Sulek
Mercury News
MODESTO - Three times within days of Laci Peterson's disappearance, Scott Peterson drove a rented car 90 miles to the Berkeley Marina -- the place police believe Peterson dumped his pregnant wife's body after killing her -- looked out across the water for a couple of minutes, then drove home without speaking to a soul, a detective testified Thursday.
The testimony from Modesto police Det. Al Brocchini implied that Peterson, not realizing he was being tailed by police, returned to the bay in early January to see if Laci's body had surfaced. But Peterson's defense lawyer said the trips to the marina were innocent -- he was simply a concerned husband checking up on the search effort by divers there. And although he was driving his wife's Land Rover around Modesto, he rented a car because his own truck had been impounded by police.
In other developments Thursday:
• Prosecutors decided they would not call Peterson's mistress, Fresno massage therapist Amber Frey, to the stand during the preliminary hearing, held to determine whether sufficient evidence exists to make Peterson stand trial for the deaths of his wife and unborn son. She could still testify at trial, however.
• Brocchini described how Peterson, a 31-year-old fertilizer salesman, was a married man on the prowl, asking a woman he met at a convention to set him up with one of her friends. That's how he got Frey's phone number and began the affair.
• The detective testified that Peterson had obtained a fishing license dated Dec. 23 and 24, casting doubt on the suspect's statements that he had planned to play golf the day his wife disappeared -- Dec. 24 -- and only changed his mind that morning to go fishing instead.
• Testimony revealed that Laci's body, which washed up along the eastern edge of the San Francisco Bay last April, had remnants of tan maternity pants -- pants her sister has testified Laci was wearing the night before Christmas Eve, not the black pair her husband said she was wearing when he left the house Christmas Eve morning. The remains also were wrapped with duct tape around the groin area -- testimony that sent Laci's mother and close friends out of the courtroom near tears.
Police believe Peterson killed his wife sometime late Dec. 23 or early Dec. 24, put her body in his fishing boat, towed it to the Berkeley Marina, and dumped it in the bay early Christmas Eve morning. The bodies washed up separately months later about a mile north of the marina..........
-----------------------------------------------------------------------------------------------------------------------------------------------------------------------------------------------------
Family: Peterson Had Several Affairs
Thursday, November 13, 2003
MODESTO, Calif. — Scott Peterson (search) has admitted to family members and friends that he cheated on his wife, Laci Peterson (search), at least four times with different women, Fox News has learned.
One relative, who does not believe Peterson is guilty of murder, described him as a sex addict.
"He has a sexual problem and has a need to sleep with other women," the relative told Fox News.
Scott Peterson's family has contended that his wife was aware of the affairs, and that although she would get angry she'd eventually put them behind her. Peterson's mother has told relatives and friends that she knew her daughter-in-law was aware of at least one affair, and that she once saw the couple arguing over it.
Amber Frey (search), a 28-year-old single mother and massage therapist, came forward as Peterson's lover shortly after his arrest in April for the murders of Laci and their unborn child. She has maintained that she did not know that Peterson was married, and that she knew nothing about the murders.
Peterson has told his family that his relationship with Frey, who is expected to testify in his preliminary hearing, was "strictly a physical relationship."
Laci Peterson's family has said they don't believe she knew about her husband's indiscretions, Frey included.
Fox News has also learned that Scott Peterson's parents have sold old cars and refinanced their house to help pay the $1 million cost of their son's defense by high-profile attorney Mark Geragos (search).
Testimony continued Tuesday in the preliminary hearing to determine if Peterson, a former fertilizer salesman, will stand trial on two counts of murder.
Peterson has read almost 10,000 pages of the discovery material in the case while he sits behind bars.
He also spends his days doing yoga and making items out of toothpaste and toilet paper in his cell, where he has placed four or five photos of Laci, including one of the young woman sitting in a toy car during her pregnancy, sources told Fox News.
A police officer said Tuesday that he saw a bucket and mops in plain sight in front of the Peterson home as officers began investigating his pregnant wife's disappearance. ......
----------------------------------------------------------------------------------------------------------------------------------------------
LACI HUBBY'S MYSTERY MARINA TRIPS
LACI HUBBY'S MYSTERY MARINA TRIPS
--------------------------------------------------------------------------------
November 14, 2003 -- MODESTO, Calif. - Double murder suspect Scott Peterson made several suspicious trips to the waterfront where cops believe he dumped the body of his murdered wife, a detective testified yesterday. Modesto Detective Al Brocchini said investigators in January watched Peterson drive at least three times from Modesto to the Berkeley marina where he claims he set out on a solo fishing trip Christmas Eve, the night his pregnant wife, Laci, vanished.
Defense lawyer Mark Geragos admitted Peterson took the trips, but only to see police dive teams looking for Laci's body.
Meanwhile, Peterson's former mistress Amber Frey won't be called to testify at his .......
--------------------------------------------------------------------------------------------------------------------------------------------------------------------------------
Peterson Prelim Turns Nasty; Frey Will Not Testify
Peterson Prelim Turns Nasty; Frey Will Not Testify
POSTED: 10:17 AM PST November 13, 2003
UPDATED: 9:35 PM PST November 13, 2003
MODESTO, Calif. -- Scott Peterson's former mistress Amber Frey, rumored to be the centerpiece of the double murder case against the Modesto fertilizer salesman, will not testify at the preliminary hearing.
Frey's lawyer, Gloria Allred, said prosecutors "obviously made a determination" they have presented enough evidence to convince a judge to order Peterson to stand trial for the murder of his wife, Laci, and his unborn son.
Meanwhile, Modesto Police Det. Al Brocchini testified that police received a tip that a man who looked like Scott Peterson was seen driving toward San Francisco Bay before dawn Dec. 24 hauling a boat containing a blanket-swaddled bundle.
Brocchini said he got the tip Jan. 9 and anonymously relayed it in February to a hot line established by Scott Peterson and his family to see if they would pass the clue on to police.
"We weren't sure if he was culling out tips that were on him or on Laci sightings that we didn't know about," Brocchini said. "I was worried a good tip would come in and wouldn't get followed up on."
He said the Petersons never passed the message on to police, who had already investigated the tip. Brocchini said he interviewed the witness, but revealed nothing else about the man.
The testimony came on the eighth day of Peterson's preliminary hearing as prosecutors attempt to show there is enough evidence to have the 31-year-old fertilizer salesman tried on murder charges in the slayings of his wife and unborn son.<.......
--------------------------------------------------------------------------------------------------------------------------------------
Superior Court, Stanislaus County November 13, 2003
Minute Order: Preliminary Hearing
(ie; Ninth day court provided overview)

(Excerpt) Read more at sfgate.com ...
---
TOPICS: Constitution/Conservatism; Crime/Corruption; Culture/Society; Extended News; Government; News/Current Events; US: California
KEYWORDS: avoidingchildsupport; baby; babyunborn; conner; deathpenaltytime; dontubelievemyalibi; getarope; ibefishing; laci; lacipeterson; smallbaby; smallchild; sonkiller; unborn; wifekiller
---
Navigation: use the links below to view more comments.
first 1-50, 51-100, 101-150, 151-200 ... 351-396 next last
---
---
---
---
---
---
---
---
---
---
---
---
---
---
---
---
---
---
---
---
---
---
---
---
---
---
---
---
---
---
---
---
---
---
---
---
---
---
---
---
---
---
---
---
---
---
---
---
---
---
---
Navigation: use the links below to view more comments.
first 1-50, 51-100, 101-150, 151-200 ... 351-396 next last
---
---