---
Identifying Muslim Moderates
Jewish World Review ^ | Nov. 25, 2003 | Daniel Pipes


Posted on 11/25/2003 5:34:13 AM PST by SJackson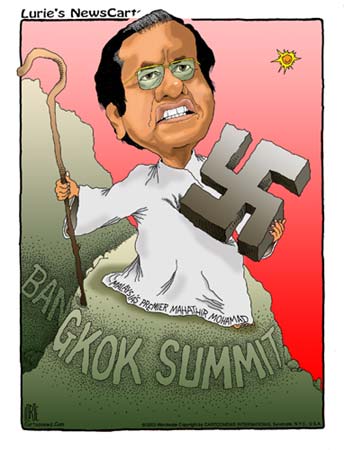 He, too was known as a "moderate"
If "militant Islam is the problem, moderate Islam is the solution," as I often argue, how does one differentiate between these two forms of Islam?
It's a tough question, especially as concerns Muslims who live in Western countries. To understand just how tough it is, consider the case of Abdurahman Alamoudi, a prominent American figure associated with some sixteen Muslim organizations.
FBI spokesman Bill Carter described one of those, the American Muslim Council, as "the most mainstream Muslim group in the United States." The Defense Department entrusted two of them (the Islamic Society of North America and the American Muslim Armed Forces and Veterans Council) to vet Islamic chaplains for the armed forces. The State Department thought so highly of Alamoudi, it six times hired him and sent him on all-expenses-paid trips to majority-Muslim countries to carry what it called "a message of religious tolerance." Alamoudi's admirers have publicly hailed him as a "moderate," a "liberal Muslim," and someone known "for his charitable support of battered women and a free health clinic."
But this image of moderation collapsed recently when an Alamoudi-endorsed chaplain was arrested and charged with mishandling classified material; when Alamoudi himself was arrested on charges of illegal commerce with Libya; and when Alamoudi's Palm Pilot was found to contain contact information on seven men designated by the U.S. government as global terrorists.
Distinguishing between real and phony moderation, obviously, is not a job for amateurs like U.S. government officials.
The best way to discern moderation is by delving into the record, public and private, Internet and print, domestic and foreign, of an individual or institution. Such research is most productive with intellectuals, activists, and imams, all of whom have a paper trail. With others, who lack a public record, it is necessary to ask questions. These need to be specific, as vague inquiries ("Is Islam a religion of peace?" "Do you condemn terrorism?") have little value, depending as they do on definitions (of peace, terrorism).
Useful questions might include:

(Excerpt) Read more at jewishworldreview.com ...
---
TOPICS: Culture/Society; Editorial; Foreign Affairs
KEYWORDS: danielpipes; moderateislam
---
---
---
---
---
---
---
---
---
---