---
To: Quilla
More details on that painting?
---
========= Chemical Warhead found in Kirkuk, Iraq Ignored by the American Media =============
Chemical warhead found at an Iraqi air base, marked with a green band,
the symbol for chemical weaponry. Trace amounts of a nerve agent were found
at two spots along the ~meter-long warhead. These amounts are consistent with
leakage from the chemically armed weapon. A 13-foot missile was found next
to it.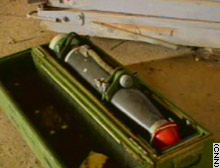 26
posted on
12/13/2003 4:39:23 PM PST
by
Diogenesis
(If you mess with one of us, you mess with all of us)
---
To: Diogenesis
More details on that painting?
I did some "technical" looking into that picture.
I found the original large, cleaner version on a website blog of sorts. You can find that file here on my ftp that won't scroll it off. The camera was a Sony FDMavica(I used a Hex Editor to examine the jpg header) and the picture was taken on April/9/2003(assuming camera is set right) as I researched what date formats the FDMavica cameras support. The only date format on Mavicas that supports year first is Year/Month/Day. That's the best I've been able to figure out beyond the obvious
It'd be nice if the original author/poster/GI would step up and give some details.

---
To: Diogenesis
I found the photo at littlegreenfootballs.com along with this one:
It is located in their September 6 archive which can be found here. Warning - huge page that took forever to download on my at-home dial-up connection - hence the delay.

---
To: Diogenesis; archy; section9
MOST interesting additional info regarding the armed nerve gas warhead.
Question that comes to mind: was it disarmed (can that be done once it's armed ?), or is nerve gas still within the weapon ?
Archy or Section9, can you help ?

---
To: Diogenesis
That isn't the only painting in Iraq glorifying 911 ... there was another in the Mukhabaret HQ in Basrah, I believe. Somewhere in the south, showing the WTC in flames. I've saved it somewhere on my PC...

391
posted on
12/14/2003 9:37:24 AM PST
by
piasa
(Attitude adjustments offered here free of charge.)
---
FreeRepublic.com is powered by software copyright 2000-2008 John Robinson