---
To: *Homosexual Agenda; EdReform; scripter; GrandMoM; backhoe; Yehuda; Clint N. Suhks; saradippity; ...
Homosexual Agenda Ping!

Finally (I admit it's after dark) I wrote my piece - I hope you can add your ideas to it. Time to get off our duffs (I admit I sit on mine way too much) and DO something!

If anyone has good links to anything of interest, put 'em up.

Later, when we've done some of these plans, those with more money can put up bail.

2
posted on
02/11/2004 9:05:11 PM PST
by
little jeremiah
(everyone is entitled to their opinion, but everyone isn't entitled to be right.)
---
To: little jeremiah
A little ridicule goes a long way, too...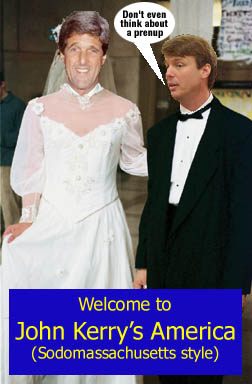 If we make it a serious liability to support this, we win.
---
To: little jeremiah
Focus the arguements on the detrimental effects on our children.
"Stop the homosexual assault on our children" states the real battleground, and puts the homos on the defensive, where perverts belong.
Inform people that if "gay marriage" is accepted by law, then by law gay activists will be in our public grade schools telling children that homosexuality is just a fine choice.
"Little Bobby, when you grow up, are you going to marry a man or a lady?" is going to be the NEA talking point, day after day, brainwashing our children. "Sally, (Steve) if you've never kissed another girl (boy), how do you know you don't like it?" will be rammed down our kids throats day after day. Any teachers who refuse to allow "Gay Pride" guest lecturers into the classroom will be fired as "haters" and "homophobes."
That's the real fight: to protect our kids from the homo chickenhawks who want to poison their minds as school kids.

233
posted on
03/06/2004 11:11:46 PM PST
by
Travis McGee
(----- www.EnemiesForeignAndDomestic.com -----)
---
To: little jeremiah
I live in Rhea County, TN. You've probably heard of us by now. We're the county whose commissioners voted unanimously to ban gays from our community. Stupid move, as it only served to label us all as homophobes, when their original intention was to ban gay marriage.
The result of their action is that we now will have the first annual "gay day" in Rhea County on May 8th. It is expected that the weirdest of weirdos from across the country will be in attendance.
Problem is, I am not an activist, can't imagine myself holding up sign that would put me in the corner with the true, die-hard homophobes in our area. I'm more inclined to observe from a distance -- 'cause this is bound to be grand entertainment. Instead, I'll probably just stay home so as not to contribute to the audience they are seeking. In my view, ignoring a protest is the grandest of insults. Especially when I never would have approved of our commissioners vote to ban gays from the community.
Ban gay marriage? - yeah, but attempting to ban persons who never made their sexuality an issue, and basically remained "in the closet", no.
And if you knew the history of our county, you would know that our schools will never promote the gay agenda (we recently battled the ACLU over bible classes in school - and lost, BTW)
Unlike the gay activists that our commissioners unintentionally invited here, our local gays seem to prefer anonymity as to their sexual preference.
So , in your opinion, am I better of ignoring this invasion of outside activists?

281
posted on
05/04/2004 10:18:38 PM PDT
by
bjcintennessee
(Don't Sweat the Small Stuff)
---
FreeRepublic.com is powered by software copyright 2000-2008 John Robinson