---
To: DoctorZIn
Iran Begins Uranium Experiment
March 28, 2004
AFP
news.com.au
Iran had resumed work on a key part of the nuclear fuel cycle, its atomic energy body chief said today, in an apparent step back from a deal with the UN nuclear watchdog to suspend all uranium enrichment-related activity.
Gholam Reza Aghazadeh told state television that "the experimental phase of the Isfahan processing installation has begun and by the end of this phase, in the next 20 days, experimental production at this facility will start".
"The uranium processing plant in Isfahan will produce all raw materials for the fuel cycle," he added.
The Isfahan installation is listed by the International Atomic Energy Agency (IAEA) as a Uranium Conversion Facility (UCF), where the refining of yellow cake takes place to produce materials that can be then used to produce enriched uranium.
In a deal with the IAEA struck late last year, the Islamic republic agreed to suspend uranium enrichment - and all related activities - while UN inspectors delved into suspicions the country was using a bid to generate atomic energy as a cover for developing nuclear weapons.
http://news.com.au/common/story_page/0,4057,9114959%255E1702,00.html
22
posted on
03/28/2004 3:26:54 PM PST
by
DoctorZIn
(Until they are Free, "We shall all be Iranians!")
---
To: DoctorZIn
http://news.bbc.co.uk/1/hi/world/middle_east/3575165.stm
Nuclear inspectors return to Iran
The inspectors will visit the gas centrifuge facility in Natanz
Experts from the UN atomic watchdog are back in Iran to resume inspections of the country's nuclear facilities.
The Iranians suspended the inspections earlier this month, because of a dispute with the International Atomic Energy Agency (IAEA).
The IAEA accused Tehran of keeping some nuclear activities secret.
The US says Iran is using its nuclear power programme to develop weapons, while Iran insists it is designed to meet its energy needs.
Rebuke
A team of two inspectors arrived in Tehran on Saturday and immediately began work, IAEA spokesperson Melissa Fleming said.
They are due to visit a gas centrifuge enrichment facility at Natanz and the Isfahan nuclear research centre.
ElBaradei is due in Iran in April
The inspectors are looking for any evidence that Iran has been trying to develop nuclear weapons.
IAEA chief Mohammed ElBaradei is expected to visit Iran next month.
On 13 March the Vienna-based agency issued a resolution rebuking Iran for failing to disclose certain aspects of its nuclear programme, as it is expected to do as a signatory to the Nuclear Non-proliferation Treaty.
The US has called on Iran to suspend all uranium-related activity.
The IAEA has a June deadline to present a judgment on Tehran's nuclear activities.
---
To: DoctorZIn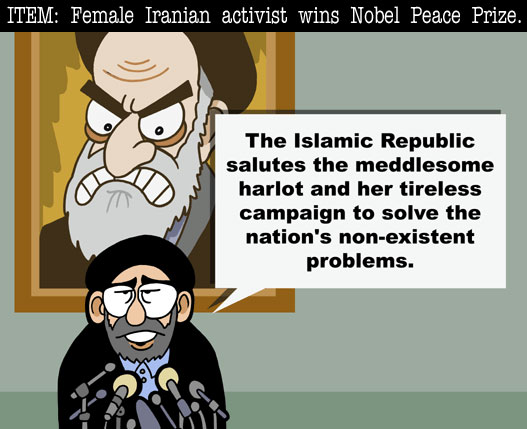 ---
FreeRepublic.com is powered by software copyright 2000-2008 John Robinson