I try to be fair and not just jump on the Dems for everything.....but this is a clear conflict of interest. She must resign now or the entire commission's report will be tainted!

The Utterly Absolutely Disgraced 911 Commission [by their own choice]
BREAKING:
GOTTA SEE THIS - Who's Who on the 9/11 "Independent" Commission
---
"Do you really think you are gonna get to ask me why I dared refuse repeat DOJ requests for investigations of dangerous illegal aliens.
Do you really think you are gonna get to ask me why I arranged to stovepipe intelligence to make intraagency effective communication useless.
Do you really think you are gonna get to ask me why illegal aliens who were felons became voters for our Democratic party.
Do you really think you are gonna get to ask me why I OK'd the use of stolen FBI files on DNC computers.
Not a chance. Following LBJ, your gonads are in my fist and your FBI files are in my computer.
Now go away. "
---
"Some wonder whether [Clinton] was distracted by the legal and
political quagmire of the Monica Lewinsky case.
And even former Clinton aides now regret that the
battle with bin Laden and his Al-Qaida organization was never fully joined.
'Clearly, not enough was done,' said Jamie Gorelick,
a former deputy attorney general in the Clinton administration.
'We should have caught this. Why this happened, I don't know.
Responsibilities were given out. Resources were given. Authorities existed.
We should have prevented this.'
---
---
BREAKING: Gorelick (put on the Committee by Daschle)
not only created the background for the 911 Atrocities but now is covering it up
for the terrorists. Gorelick is a litigation partner of Wilmer, Cutler & Pickering.
which represents Prince Mohammed al-Faisal al-Saud, the House of Saud,
against a lawsuit filed by a coalition of 600 Sept. 11 families.
---
BREAKING: TWA800
On Aug. 22, 1996, just before the Democratic National Convention,
Ms. Gorelick oversaw a critical Justice Department meeting with the FBI.
mmediately after this meeting, as it happened,
all serious inquiry into the fate of TWA 800 came to an end.

Gorelick was instrumental in the corruption of TWA Flight 800 terrorism investigation
Did Clinton appointee corrupt Flight 800 probe?
---
THE OBSTRUCTION OF THE OKLAHOMA BOMBING GRAND JURY INVESTIGATION,
The Mysterious Jamie Gorelick Phone Call
By David Hoffman,Sun Sep 14 12:10:57 1997
---
MORE?
http://www.freerepublic.com/focus/f-news/1117579/posts
GORELICK GATE - various FR links
---
---
Jamie S Gorelick
Vice Chair
Fannie Mae
$2,000 John Kerry
XXXX Williams Ln
Chevy Chase, MD 20815


Jamie Gorelick
Partner
Wilmer Cutler and Pickering
$2,000 Dick Gephardt
XXXXWilliams Ln
Chevy Chase, MD 20815


Jamie Gorelick
Attorney
Wilmer Cutler & Pickering
$1,000 Wesley Clark
XXXX Williams Ln
Chevy Chase, MD 20815

---
YOU COULD FREEP the Commission and DEMAND THAT GORELICK BE REMOVED!:
Phone Commission at 202-331-4060
Email Commission at info@9-11commission.gov
Put Thomas Kean in the subject line.
WARNING LABEL : DON'T EXPECT ANY HELP.


Commissioner Kean: "Ms Gorelick is one of the finest members
of the commission and one of the most bipartisan members.
People ought to stay out of our business"
THE REAL DEAL: "According to a 1998 Senate testimony of former CIA director James
Woolsey, powerful financier Khalid bin Mahfouz' younger sister is
married to Osama bin Laden,. (US Senate, Senate Judiciary
Committee, Federal News Service, 3 Sept. 1998, See also Wayne
Madsen, Questionable Ties, In These Times,12 Nov. 2001 )
Bin Mahfouz is suspected to have funneled millions of dollars to the Al
Qaeda network.(See Tom Flocco, Scoop.co.nz 28 Aug. 2002)
Now, "by sheer coincidence", former New Jersey governor Thomas
Kean, the man chosen by President Bush to lead the 9/11 commission
also has business ties with bin Mahfouz and Al-Amoudi.
Thomas Kean is a director (and shareholder) of Amerada Hess
Corporation , which is involved in the Hess-Delta joint venture with
Delta Oil of Saudi Arabia (owned by the bin Mahfouz and Al-Amoudi
clans)...
Now you would think that being a business partner of the brother in
law and alleged financier of "Enemy No. 1" would also be considered a
bona fide "conflict of interest", particularly when your mandate --as
part of the 9/11 Commission's work-- is to investigate "Enemy No. 1".
"(Michel Chossudovsky, New Chairman of 9/11 Commission had
business ties with Osama's Brother in Law , Centre for Research on
Globalization, December 2002 )
Who's Who on the 9/11 "Independent" Commission
---
info@9-11commission.gov

DONT FORGET - PUT THOMAS KEAN IN THE SUBJECT LINE

---
FREEP and DEMAND THAT GORELICK BE REMOVED!:
Call the President. Leave a message at the White House.
Comments: 202-456-1111
Switchboard: 202-456-1414
FAX: 202-456-2461
E-Mail President George W. Bush: president@whitehouse.gov
Vice President Richard Cheney: vice.president@whitehouse.gov FREEP and DEMAND THAT GORELICK BE REMOVED!:


---
---
Congressman Tom DeLay
Majority Leader Office
H-107 The Capitol
Washington, DC 20515
p. (202)225-4000
f. (202)225-5117

Congressional Office
242 Cannon HOB
Washington, DC 20515
p. (202)225-5951
f. (202)225-5241

---
---
FLASHBACKS:
---
"Mr. Clarke, Mr. Clarke, please this is urgent.
We can take out Osama, now. Please answer!!! We have him in our sight."
Clarke: "Nope. Forgetaboutit. No big deal. They told Gorelick and I
that they promise that they will only attack our computers."
---
---
PARTIAL LIST OF TERRORIST ACTIVITIES IGNORED BY GORELICK, CLARKE and CLINTON

1993 Attempted Assassination of Pres. Bush Sr., April 14,1993
1993 First World Trade Center bombing, February 26th, 7 Killed, Hundreds injured, Billions
1995 Attack on US Diplomats in Pakistan, Mar 8,1995
1996 Khobar Towers attack
1998 U.S. Embassy Bombing in Peru, Jan 15, 1998
1998 U.S. Kenya Embassy blown up, 100's murdered
1998 U.S. Tanzania Embassy blown up, 100's murdered
1999 Plot to blow up Space Needle (thwarted)
2000 USS Cole attacked, many U.S. Navy sailors murdered

---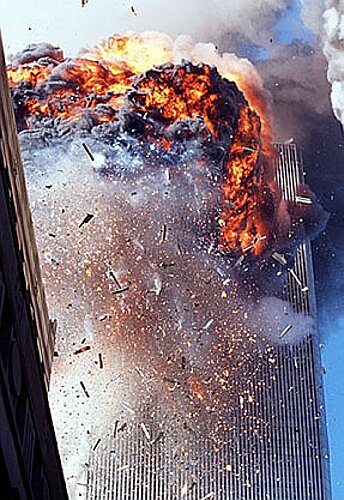 ---
THEN:
NOW
---
Islamic 911 Attack Calendar which was distriibuted worldwide the year before
the terrorists murdered 3000 Americans per hour in the 911 Atrocities.
INQUIRING MINDS WANT TO KNOW BEFORE THE NEXT ATTACK
How many were in the Offices and homes of clients of Gorelick and/or Kean and their associates?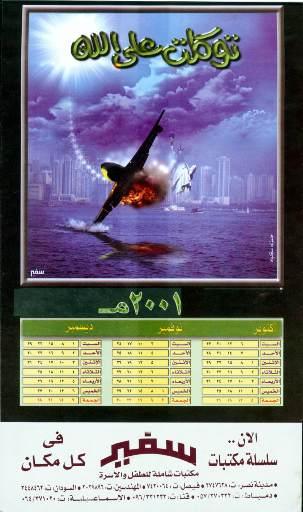 ---
If Gorelick, Clarke and Clinton had been completely HONEST
to the American public about the Islamic-crashed airplanes, like TWA800, in the 90's
Americans WOULD have been on alert on 911
and would have had the opportunity to prevent the 911 Atrocities.
---
ONLY POSSIBLE CONCLUSION GIVEN THE CONTINUING COVERUP:
---
"Gorelick and her gang are trying to use 'plausible deniability'.
Book her .... and the rest of them under RICO, Dano."
---