---
Mullah's Plan To Boost Job Market: Hire Fanatics To Blow Themselves Up!
ActivistChat.com ^ | Jun 5, 2004 | Compiled by ActivistChat.com


Posted on 06/05/2004 4:37:38 PM PDT by faludeh_shirazi
Mullah/Terror: First International gathering of candidates for suicide bombers!
FARS NEWS AGENCY:
As part of the anniversary ceremonies of Iman Khomeini's death, an international gathering of candidates for suicide bombing will take place in Tehran under the title " Suicide in Tehran." The "Center for the appreciation of the Shahid" of the world Islamic Movement, declared today that an international gathering of "Shahids" (martyr bombers) is to take place with the objective of presenting suicide bombing as the most effective and influential method to compel occupying forces to flee Muslim territories. The ceremony will include participants from various Jihad movements and will take place on 02/06/04 in the AL-SHOHADAH HALL at 7th Batir square.
Among the speakers at the gathering will be ZAHRA Mustafai the great grand daughter of Iman Khomeini, Member of the Majles. Mehdi Kushk, Sardar Salamati head of operations at the H.Q of the Revolutionary Guards, Hassan Abbasi head of the Institute of the doctrine of "Defense without borders" and IRI's Television terrorism proponent, and lastly Sardar Kazemi, a Veteran officer who participated in the Iran Iraq war.
The Application Form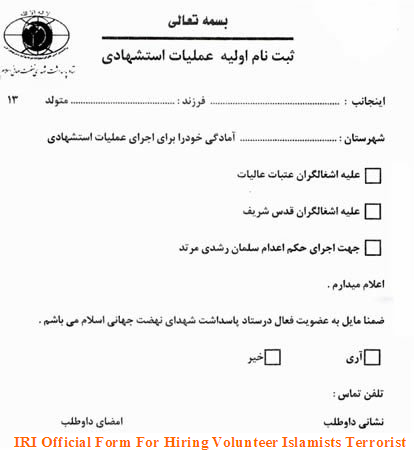 (This job is well paid, well established, it will blow you away, it will take every piece of you to all corners of this Earth, it will associate you with 72 angels upon the accomplishment of your task. It will take you to the heaven you've always dreamed of.)
English Translation of the Form:

(Translation provided by Spenta, ActivistChat.com Contributor/Activist)

Besmetalli (Islamic Invocation)

Registration for Martyrdom Operations

Name:

Children: Birth Date:

Location:

What Martyrdom Operations are you Prepared For?

Against the Occupiers in Iraq ___________________________

Against the Occupiers in Jerusalem ______________________

Towards the Execution of the Fatwa against Salman Rushdie _________

I declare the above

And additionally I am interested in membership in the Global Islamic Martyrdom Brigades

-------------------------------------------------

End of translation.



---
TOPICS: Foreign Affairs
KEYWORDS: iran; recruits; suicidebombers
---
---
---
---
---
---
---
---
---
---
---
---
---