---
To: Pan_Yans Wife; fat city; freedom44; Tamsey; Grampa Dave; PhiKapMom; McGavin999; Hinoki Cypress; ...
Join Us At Today's Iranian Alert Thread – The Most Underreported Story Of The Year!
"If you want on or off this Iran ping list, Freepmail
DoctorZin"
3
posted on
06/20/2004 10:12:25 PM PDT
by
DoctorZIn
(Until they are Free, "We shall all be Iranians!")
---
To: DoctorZIn
8
posted on
06/21/2004 1:50:03 AM PDT
by
windchime
(Podesta about Bush: "He's got four years to try to undo all the stuff we've done." (TIME-1/22/01))
---
To: DoctorZIn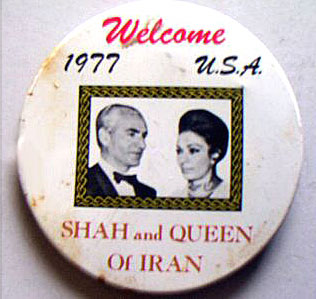 1977 Pin to welcome Shah & Farah to the US
---
To: knighthawk; McGavin999; SJackson; tet68; sionnsar; Stultis; river rat; risk; F14 Pilot; ...
Photos from Lorestan - Iran. Small village.
Traditional Iranian dress - Zoroastrian sculptures in the background.
Iranian Village Grandfather.
Making bread.
Beautiful Iranian little girl.
Traditional bread and yogurt dish.
---
FreeRepublic.com is powered by software copyright 2000-2008 John Robinson