---
To: DoctorZIn
From our friends at ActivistChat.com...
Hello Everyone,
Please note that Zbignew Brzezinski, National Security Advisor to the atrocious Carter administration is STILL meddling in Iranian affairs. Let's contact the Coundil on Foreign Relations which is sponsoring this press briefing ( at
mbeeuwkes@cfr.org
) and let them know that Iran's future cannot be decided by anyone but Iranians and any further attempts to undermine our efforts for secularism and democracy in Iran is not only unacceptable but will be met with protests that will go into the annals of history.ANY NON-IRANIAN attempting dialogue with the "Mollah Monarchs" will be considered an accomplice to criminals against humanity. The only way is by backing the movement of the Iranian people against these Islamist terrorism financers. Thank you.
27
posted on
07/15/2004 4:08:27 PM PDT
by
DoctorZIn
(Until they are Free, "We shall all be Iranians!")
---
To: DoctorZIn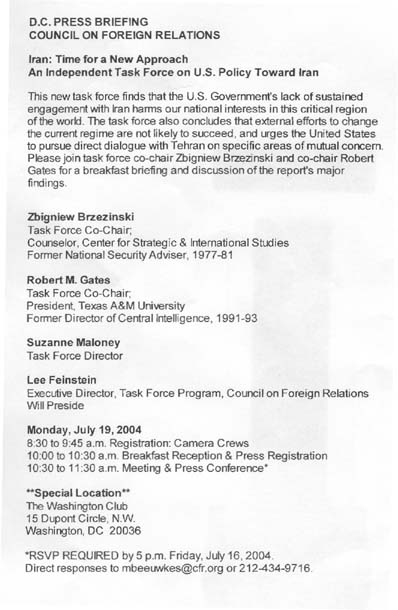 28
posted on
07/15/2004 4:08:57 PM PDT
by
DoctorZIn
(Until they are Free, "We shall all be Iranians!")
---
FreeRepublic.com is powered by software copyright 2000-2008 John Robinson