---
To: DoctorZIn; nuconvert; F14 Pilot; Cyrus the Great; Persia; RunOnDiesel; McGavin999; ...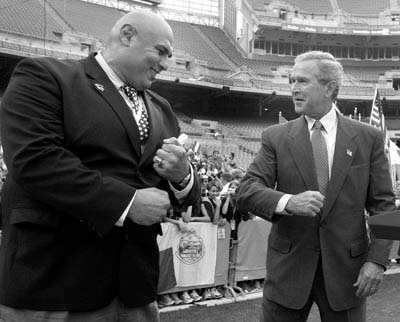 President Bush flexes his bicep with 1996 Olympic wrestling silver medalist Iranian-American Matt Ghaffari, before speaking to the Athletes of the International Children's Games and Cultural Festival at the Cleveland Browns Stadium in Cleveland, Ohio, Friday. President Bush, who campaigned in Missouri and Michigan on Friday, continues through Ohio and Pennsylvania on Saturday. AP Photo
---
To: freedom44
How funny, I saw that picture but never saw the caption that said the big guy was Iranian-American.
15
posted on
08/03/2004 10:26:24 PM PDT
by
McGavin999
(If Kerry can't deal with the "Republican Attack Machine" how is he going to deal with Al Qaeda)
---
To: freedom44
---
To: freedom44; a_Turk; GeraldP
I remember watching Ghaffari demolish the competition back in Atlanta. He was probably the high point of the Olympic Games that Summer.
I'm not sure, but I also think he won a few medals in Barcelona.
Along with the Greeks, Armenians and perhaps, the Turks and the Russians, some of the most accomplished wrestlers in the world are Persian.
I usually despise those stupid "human interest stories" the networks use as fillers for the down-time between Olympic events, but the story of how Ghaffari's family made it to U.S. shores was incredibly moving.

---
FreeRepublic.com is powered by software copyright 2000-2008 John Robinson