---
To: Saundra Duffy; All; everyone
Heh you bad Saundra...
Everyone should know that Bones (I miss him too!)the cat is trained to open the shades in the Guest Suite at 8:AM!
I was laying in bed reading Unfit For Command, when all of a sudden the shade went up and the cat was running out of the room...Good job on training the cat, Saundra.
A living moving remote control just like the old days with Television. The reason you had kids was to change the channel on the TV.

---
To: Mama_Bear; jkphoto
Lori, this picture is MUCH funnier like this: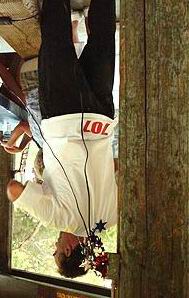 LOL
LOL!

132
posted on
09/13/2004 3:52:08 PM PDT
by
Syncro
(Sorry for the copyright infringment...don't tell Cootabling...Har :>)
---
To: Syncro
I was laying in bed reading Unfit For Command,
And me and two others went to Frisco to see John O'Neill (and Lt. Col Buzz Patterson) at the Commonwealth Club on Friday.
Saturday I didn't go to Sacramento, instead opting to do two local events here, an afternoon rally on a street corner with 20+ others (w/ one TV news crew), then an evening candlelight memorial at Oak Hill cemetary where they made a new permanent memorial site for the victims (got three TV news crews to cover that one).

135
posted on
09/13/2004 5:01:28 PM PDT
by
CounterCounterCulture
(Remember, name and town, name and town, if you wish to opine)
---
FreeRepublic.com is powered by software copyright 2000-2008 John Robinson