---
Iranian Alert - September 20, 2004 [EST]- IRAN LIVE THREAD - "Americans for Regime Change in Iran"
Americans for Regime Change In Iran ^ | 9.20.2004 | DoctorZin


Posted on 09/19/2004 9:27:58 PM PDT by DoctorZIn
The US media still largely ignores news regarding the Islamic Republic of Iran. As Tony Snow of the Fox News Network has put it, "this is probably the most under-reported news story of the year." As a result, most American's are unaware that the Islamic Republic of Iran is NOT supported by the masses of Iranians today. Modern Iranians are among the most pro-American in the Middle East. In fact they were one of the first countries to have spontaneous candlelight vigils after the 911 tragedy (see photo).
There is a popular revolt against the Iranian regime brewing in Iran today. I began these daily threads June 10th 2003. On that date Iranians once again began taking to the streets to express their desire for a regime change. Today in Iran, most want to replace the regime with a secular democracy.
The regime is working hard to keep the news about the protest movement in Iran from being reported. Unfortunately, the regime has successfully prohibited western news reporters from covering the demonstrations. The voices of discontent within Iran are sometime murdered, more often imprisoned. Still the people continue to take to the streets to demonstrate against the regime.
In support of this revolt, Iranians in America have been broadcasting news stories by satellite into Iran. This 21st century news link has greatly encouraged these protests. The regime has been attempting to jam the signals, and locate the satellite dishes. Still the people violate the law and listen to these broadcasts. Iranians also use the Internet and the regime attempts to block their access to news against the regime. In spite of this, many Iranians inside of Iran read these posts daily to keep informed of the events in their own country.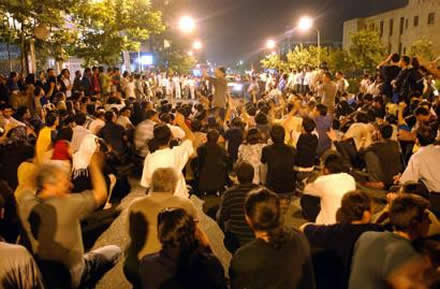 This daily thread contains nearly all of the English news reports on Iran. It is thorough. If you follow this thread you will witness, I believe, the transformation of a nation. This daily thread provides a central place where those interested in the events in Iran can find the best news and commentary. The news stories and commentary will from time to time include material from the regime itself. But if you read the post you will discover for yourself, the real story of what is occurring in Iran and its effects on the war on terror.
I am not of Iranian heritage. I am an American committed to supporting the efforts of those in Iran seeking to replace their government with a secular democracy. I am in contact with leaders of the Iranian community here in the United States and in Iran itself.
If you read the daily posts you will gain a better understanding of the US war on terrorism, the Middle East and why we need to support a change of regime in Iran. Feel free to ask your questions and post news stories you discover in the weeks to come.
If all goes well Iran will be free soon and I am convinced become a major ally in the war on terrorism. The regime will fall. Iran will be free. It is just a matter of time.
DoctorZin




---
TOPICS: Extended News; Foreign Affairs; News/Current Events; War on Terror
KEYWORDS: alsadr; armyofmahdi; ayatollah; cleric; humanrights; iaea; insurgency; iran; iranianalert; iranquake; iraq; islamicrepublic; jayshalmahdi; journalist; kazemi; khamenei; khatami; khatemi; moqtadaalsadr; mullahs; persecution; persia; persian; politicalprisoners; protests; rafsanjani; revolutionaryguard; rumsfeld; satellitetelephones; shiite; southasia; southwestasia; studentmovement; studentprotest; terrorism; terrorists; wot
---
Navigation: use the links below to view more comments.
first 1-20, 21-33 next last
---
Join Us At Today's Iranian Alert Thread – The Most Underreported Story Of The Year!
"If you want on or off this Iran ping list, Freepmail
DoctorZin
---
To: Pan_Yans Wife; fat city; freedom44; Tamsey; Grampa Dave; PhiKapMom; McGavin999; Hinoki Cypress; ...
Join Us At Today's Iranian Alert Thread – The Most Underreported Story Of The Year!
"If you want on or off this Iran ping list, Freepmail
DoctorZin"
2
posted on
09/19/2004 9:30:11 PM PDT
by
DoctorZIn
(Until they are Free, "We shall all be Iranians!")
---
To: DoctorZIn
Analysis: Iran's nuclear bluff



By Frances Harrison

BBC correspondent in Tehran
Iran's angry reaction to calls for a sweeping halt to all its enrichment activities may be born partially of a sense of injustice.
At Natanz, uranium enrichment is in its final phase, Iranians say
Iran argues it has abided by the Nuclear Non-Proliferation Treaty (NPT) and allowed spot inspections sometimes at two hours' notice in order to show the intention behind its nuclear programme is peaceful.
Iranian officials repeatedly stress their country has a legal right to nuclear power - and in particular to securing their own source of fuel for power stations rather than being dependent on outsiders.
The international community is mistrustful though - fearing Iran plans to convert fuel into highly enriched uranium for weapons.
Under pressure
By taking a tough stance against the International Atomic Energy Agency (IAEA) resolution, Iran hopes to show the world it will not give in to what it calls international bullying by making concessions outside the framework of the Nuclear Non-Proliferation Treaty.
The government is also under pressure from hardliners who dominate the parliament.
More than 200 deputies urged the government to defy the international community and go ahead and enrich uranium.
| | |
| --- | --- |
| | The door was however left ajar for compromise when Iran said any further suspension of enrichment activities was a matter for negotiations |
There have been calls in hard-line newspapers for Iran to pull out of the NPT altogether - and certainly it is possible if Iran is referred to the UN Security Council for sanctions.

For the meantime Iran has said it will continue and even extend its co-operation with IAEA inspectors in the hope that it can resolve all outstanding issues by the next meeting in November.

Spot inspections will continue under an agreement known as the Additional Protocol signed last year though parliamentarians have issued a statement saying they will not ratify it.

Disturbing progress

The door was, however, left ajar for compromise when Iran said any further suspension of enrichment activities was a matter for negotiations and could not be achieved by passing resolutions.

What is disturbing for the international community is quite how advanced Iran's nuclear programme already is.

Iran's top nuclear negotiator, Hassan Rohani, said Iran was already producing uranium hexafluoride gas out of yellow cake in Isfahan and had reached the last stage of uranium enrichment at a site in Natanz.

The latest IAEA resolution called on Iran to reconsider its decision to start building a heavy-water research reactor in Arak - but Mr Rohani told journalists it was almost finished.

He said Iran already had enrichment capability and could complete the fuel cycle any day it wanted.
3
posted on
09/19/2004 9:30:37 PM PDT
by
DoctorZIn
(Until they are Free, "We shall all be Iranians!")
---
To: DoctorZIn
US spy agencies believe strikes on Iran wouldn't work: report
WASHINGTON (AFP) Sep 19, 2004

US spy agencies have played out "war games" to consider possible pre-emptive strikes on Iranian nuclear facilities, and concluded that strikes would not resolve Washington's standoff with Tehran, Newsweek magazine reported Sunday.

"The war games were unsuccessful at preventing the conflict from escalating," an unnamed Air Force source told the magazine in its latest issue.

The Central Intelligence and the Defense Intelligence Agency played out the possible results US strikes, the magazine reported.

Hawks within President George W. Bush's administration haev advocated for regime change in Tehran -- through covert operations or force if needed, Newsweek said.

But with US-led forces facing almost daily attacks in Iraq, no one in Bush's cabinet has taken up the cause, the report