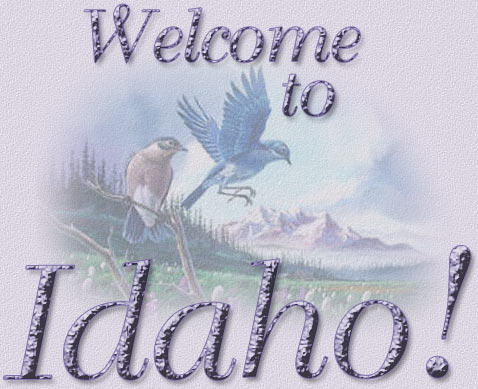 THE "GEM OF THE MOUNTAINS",
the state whose name means....
.....absolutely nothing.
The name "Idaho" was used for a steamship which traveled the Columbia River, but "Idaho" is a coined or invented word. It is not a derivation of an Indian phrase "E Dah Hoe (How)" supposedly meaning "gem of the mountains." However "The Gem State" and "The Gem of the Mountains" remains Idaho's nickname.

And a "Gem" this state is, from the desolate moonscape of the "Craters of the Moon" National Monument, a volcanic landscape where nearly a quarter-million visitors come each year to explore the caves and craters, to Hells Canyon, the deepest river gorge in North America.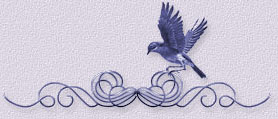 Idaho's History in Brief....
The area that is now Idaho was settled more than 12,000 years ago by Native Americans. Later tribes included the Shoshone, Nez Perce (Sahaptin), Bannock, Kootenai, Coeur d'Alene and others. Lewis and Clark encountered the Nez Perce along the Snake, Salmon and Clearwater Rivers when they explored the area in 1805. After Lewis and Clark, fur traders entered the area. Missionaries, gold prospectors and Mormon settlers followed. The Idaho Territory was officially formed in 1863. It would be almost 30 years -- well after the arrival of the railroads and the end of Native American resistance -- before Idaho won its statehood in 1890.



Range wars and violent labor disputes in the mines kept Idaho in a state of social upheaval until the early 1900s. But the rapid growth of farming and forestry soon helped to stabilize Idaho both socially and economically. In recent years, it has attracted many high-tech businesses and serves as the headquarters for many corporations. Agriculture and timber remain important to the state, as do manufacturing, mining and tourism.

Boise, in the southwestern Idaho area known as the Treasure Valley, became the territorial capital in 1865 and the state capital when Idaho was admitted to statehood in 1890.






Click HERE for more detailed
information on the history of Idaho.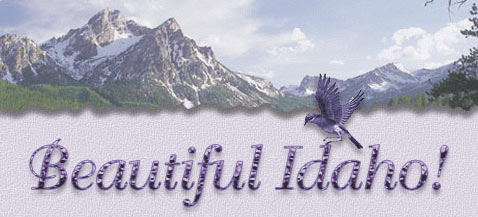 ...any time of year!
"Fields and forests glisten in shades of amber, and ocher. Yellow-needled tamarack punctuate deep evergreen thickets with dazzling color. Morning mountain air grows heavy with the scent of wood smoke and fallen leaves. At night, starshine dazzles the eye and sparks the imagination. Autumn is the perfect time to fall in love with one of America's best-kept secrets".....IDAHO! - By Amanda Bjerke for Skywest Magazine.
Winter sizzles in Idaho! Get outside under her sunny blue skies. If gravity moves you, try Idaho's feather-light powder and short lift lines. With over 16,000 acres in 16 downhill areas, there's something for every taste and ability. 46 Nordic ski areas offer lots of room to glide, and Idaho's more than 7,200 miles of groomed snowmobile trails will get your motor running. Take in a festival or winter carnival, try ice skating, or go tubing with the kids. Your adventure is waiting!
Spring in Idaho is spectacular! The backcountry comes alive with flowers and wildlife. The warm pine scented mountain breezes, blue sky, crystal clear streams and blue green forests are a sure way to melt the stress of everyday life away. Hike or ride into the back country. Fish for wild trout in a pristine mountain stream or lake or explore old gold mining areas. Bring your camera and photograph the incredible wildlife; Deer, Elk, Bighorn Sheep, Mountain Goat, Moose and if you're lucky maybe a Wolf!
Idaho summers are a frenzy of outdoor activity. So many rivers offer a fast ride. So many trails beg to be explored. So many golf courses, so many restaurants with fresh-air dining, so many campgrounds and alpine lakes. Summer shimmers in Idaho!
Famous Idahoans



Joe Albertson grocery chain founder
T. H. Bell educator
Gutzon Borglum Mt. Rushmore sculptor, Bear Lake
Carol R. Brink author
Frank F. Church senator
Fred Dubois senator
Vardis Fisher author, Annis
Harmon Killebrew baseball player, Payette
Ezra Pound poet, Hailey
J. R. Simplot industrialist
Robert E. Smylie political leader
Henry Spalding missionary, Lapwai Valley
Frank Steunenberg governor
Picabo Street skier, Triumph
Lana Turner actress, Wallace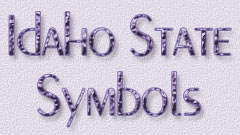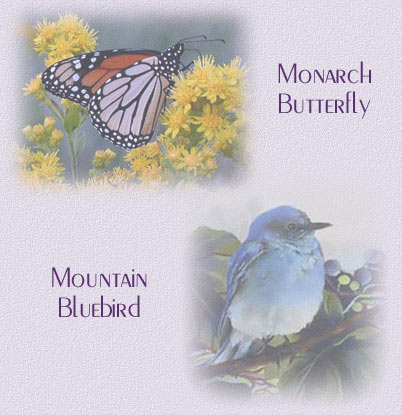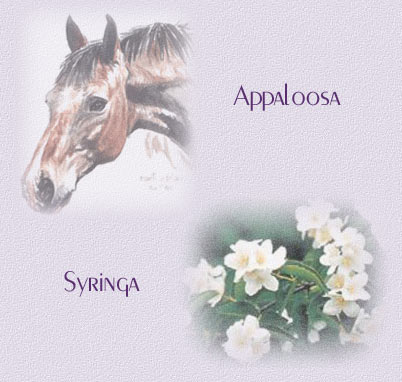 And, last but not least,
Idaho's pride and joy and America's favorite vegetable,
the potato.


Idaho's unique environment provides nearly perfect growing conditions for potatoes. The soil, water, clean air and climate in Idaho contribute to those consistently high-quality potatoes that have made Idaho famous for so many years. Idaho's rich volcanic soil is ideally suited for potatoes. Warm, sunny days, cool nights and water from melting snow in nearby mountains make the perfect combination for growing the world's best potatoes.
Did you know...?
A Presbyterian missionary named Henry H. Spalding established a mission near Lapwai in 1836, where he printed the Northwest's first book, established Idaho's first school, developed Idaho's first irrigation system, and grew the state's first potatoes.

The average US person eats 142.7 pounds of potatoes each year.

Idaho produces 30% of the total American output, and enough to give 3 lb of spuds to every human being on the planet.

We cannot leave Idaho without at least one Idaho potato recipe. Just in time for Halloween.....

Mummified Mashed Idaho Potatoes



This recipe, courtesy of the Idaho Potato Commission, is too cute for words! Your favorite mashed potatoes can be used here instead of instant - leftover ones work expecially well.

4 cups Instant Mashed Idaho Potatoes
Corn husk (fresh or packaged)*
Assorted vegetables

Recommended vegetables:
- Peas and carrots for eyes
- Herbs for eyelashes
- Black olive slices for eyebrows
- Corn kernels for ears
- Sliced radishes and olive halves for shoes

Additional suggestions:
- Red, yellow, green bell pepper slices
- Sugar snap peas
- cucumbers
- Green beans
- Zucchini
- Eggplant

Directions:

After preparing instant mashed potatoes according to box directions, let potatoes cool to touch.
Place opened cornhusk on plate and put on large dollop (approximately 3/4 cup) of potatoes in center of husk. Gently mold potatoes into the oblong shape of a mummy.
Select vegetables to create mummy features and choose approximate location where to place. Carefully press the vegetables into potatoes.




*Note: Corn husks are used to enhance the visual appearance (they are not edible). Mummified Mashed Idaho Potatoes can be prepared without corn husks.

Makes 4 servings.

Thank you to the following websites
for providing information and graphics.
Winter in Idaho
Idaho Potatoes
Perfect Entertaining
Spring in Idaho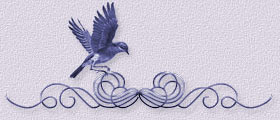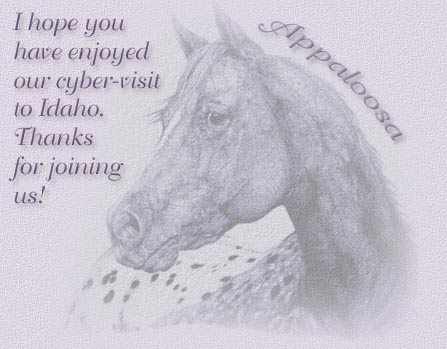 The History and Origin of the Appaloosa
Have a Wonderful Wednesday!