---
"Showtime" CARTOON featuring Stolen Honor documentary and John Kerry
IowaPresidentialWatch.com ^ | 10/21/2004 | IPWGOP


Posted on 10/20/2004 11:11:06 PM PDT by IPWGOP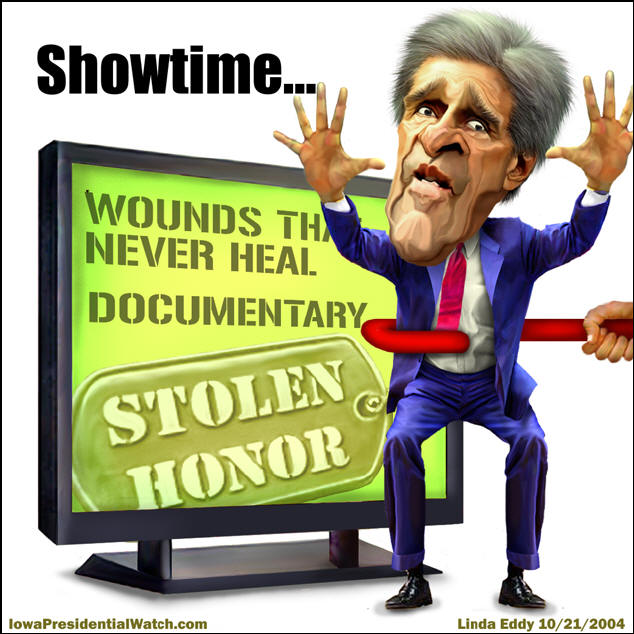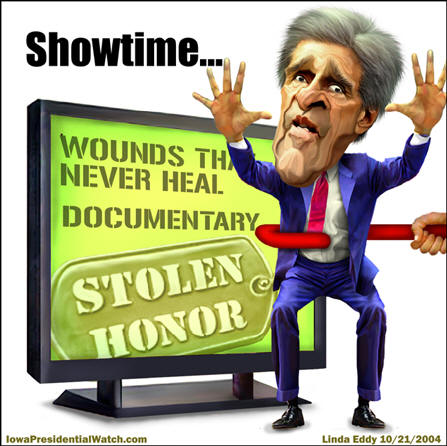 This is an email-able, copyright-ready graphic you can use in emails, on blogs, in flyers, on posters... anything that's noncommercial.
---
TOPICS: Editorial; Political Humor/Cartoons; Politics/Elections
KEYWORDS: documentary; honor; john; kerry; showtime; sinclair; stations; stolen
---
Navigation: use the links below to view more comments.
first previous 1-20, 21-26 last
---
To: LakeLady
You BET!!! I'll be dreaming of GW, too....otherwise, it's called a nightmare!

Sleep well, y'all!!
---
To: IPWGOP
---
To: IPWGOP
thats a beaut.
please pray that sinclair shows it on all 62 stations.
---
To: IPWGOP
24
posted on
10/21/2004 4:22:40 AM PDT
by
Eaker
("He's the kind of guy who would fight a rattlesnake and give the snake a two-bite head start.")
---
To: IPWGOP
Thanks for the ping! This is one of your most deadly accurate depictions of sKerry, ever! You've got that pinched, angry mouth (which he can't seem to control or make look pleasant no matter how hard he tries), and that nose that always, always is sniffing his fingers when he thinks he isn't being watched. He must be the worst and most arrogant candidate of all time!
25
posted on
10/21/2004 5:16:54 AM PDT
by
alwaysconservative
(sKerry: Wrong about America then, wrong for America now!)
---
To: IPWGOP
More of Linda's wonders!!!

:) Whadda'WonderWoman!!
---
Navigation: use the links below to view more comments.
first previous 1-20, 21-26 last
---
---
FreeRepublic.com is powered by software copyright 2000-2008 John Robinson