---
To: ARCADIA
If he were being honest he would have said: I support John Kerry because he is pro-homosexual and becuase Bush support the FMA. Period. That's his reason. Personally, I think he always has been a liberal and only faking conservative thought to push gay issues on the GOP. He's been largely successful and now is the time to go home to the DNC.
9
posted on
10/26/2004 1:49:07 PM PDT
by
The Ghost of FReepers Past
(Legislatures are so outdated. If you want real political victory, take your issue to court.)
---
To: The Ghost of FReepers Past
He gives credit to Bush for every single significant act of the last 4 years, but then says he is wrong because of Abu Garib? As if Bush was over there with a bull horn directing the building of the pyramid.

He also rightly cites the single reason why the UN would not support the mission: Oil for Food, and French corruption. So Bush was right to go, but wrong to go because the corrupt French said no.

Sullivan has absolutely no clue. He is now irrelevant.

---
To: The Ghost of FReepers Past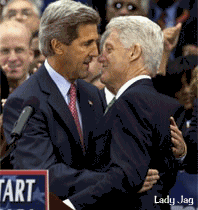 ---
FreeRepublic.com is powered by software copyright 2000-2008 John Robinson