---
***THE AL QAQAA PHOTOS SHOW TRUCKS PRIOR TO U.S. TROOPS ARRIVAL - PHOTO HERE***
WMCA - New York ^ | 10.29.2004


Posted on 10/29/2004 5:50:35 AM PDT by KMC1
PHOTOS CONFIRM - LARGE TRUCKS AT AL QAQAA: It is the worst of all possibilities for John Kerry. While he is busy blaming the troops for the missing weapons that were never there on their watch. While he is accusing them of being incompetent when it came to securing weapons of mass destruction. While he spit in their face the way he did to the Prisoners of War after he returned from Vietnam. The Pentagon is now providing addtional evidence that further deconstructs the now debunked New York Times story of the missing weapns.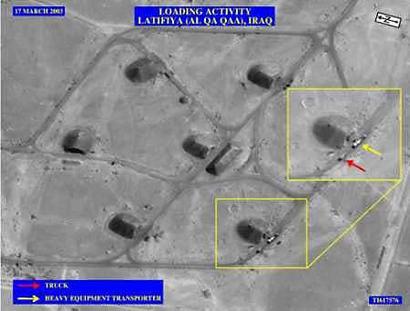 This photo as released late yesterday by the Pentagon and taken prior to our arrival on the scene shows pairs of trucks and heavy equipment transporters.

At the very least it demonstrates that the regime was moving SOMETHING prior to our arrival.

John Kerry's willingness to be critical of our troops, while they are fighting for his freedom, and by his team's own admission - before they know the facts sends a huge message of the lengths Kerry is willing to go to use ANYTHING at his disposal to win. I only wished he would do "whatever it takes" to put America first, instead of his own ambition.

---
TOPICS: Announcements; Editorial; Foreign Affairs; Front Page News; Government; News/Current Events; Politics/Elections; War on Terror
KEYWORDS: alqaqaa; karryhatesthetroops; kerrylies; kerrysucks
---
Navigation: use the links below to view more comments.
first 1-20, 21-40, 41-54 next last
---
---
---
---
---
---
---
---
---
---
---
---
---
---
---
---
---
---
---
---
---
Navigation: use the links below to view more comments.
first 1-20, 21-40, 41-54 next last
---
---