---
To: knighthawk; McGavin999; SJackson; tet68; sionnsar; Stultis; river rat; risk; F14 Pilot; ...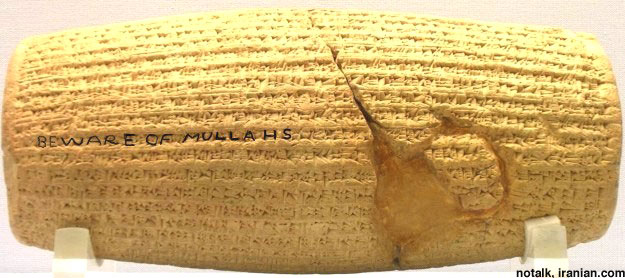 Cylinder of Cyrus the Great.
---
To: freedom44
UNHCR threatens Iran with suspension of aid for Afghan refugees

Sat Jan 15,10:13 AM ET World - AFP

http://news.yahoo.com/news?tmpl=story&u=/afp/20050115/wl_afp/afghanistaniran_050115151353

KABUL (AFP) - The UN refugee agency threatened to suspend aid for Afghan refugees in Iran unless Tehran stopped their forced repatriation.

"We think that the Iranian authorities have gone too far... we are not going to be instrumental in forced repatriation," United Nations (news - web sites) High Commissioner for Refugees (UNHCR) Ruud Lubbers told AFP on Saturday.


Speaking on a visit to Afghanistan (news - web sites), Lubbers said a tripartite agreement between the UNHCR, Iran and Afghanistan would not be renewed when it expires in three months' time if Iranian authorities "don't improve their behaviour."


Some 375,000 Afghan refugees returned from Iran in 2004, with the UN agency assisting many of them with packages of house-building materials including doors, beams and windows, a small cash stipend and transportation across Afghanistan.


But in recent months fears have mounted that Iranian authorities are exerting undue pressure on Afghan refugees to return home, suspending education and medical care for them and revoking their residence permits so that police who stop them on the street can threaten them with deportation.


Afghan refugees returning home in September told AFP that there was a government-run radio campaign in Iran urging them to return home and threatening them with arrest and legal action if they failed to do so.


"I think that the Iranian authorities sometimes go beyond what they should do in the propaganda as if everybody is obliged to go. It is not good," Lubbers told AFP.


More than two million Afghans fled to Iran as refugees in the years of conflict which followed the Soviet invasion of Afghanistan in 1979, but many have begun returning home since the fall of the hardline Islamic Taliban regime in late 2001.


However, with living conditions in Afghanistan so basic after 23 years of conflict, many refugees based in Iran are reluctant to return to the war-shattered country fearing to rebuild their lives from scratch.


Lubbers said the first returnees were very patriotic and had returned volutarily, adding: "Why do we hear these stories now? It is because we are entering these people who had good lives there and are not so patriotic and feel more obliged to go."


Since 2002, more than 1,100,000 Afghans have returned from Iran, including some 330,000 Afghans who returned under their own steam without help from the UN.


According to UNHCR, there are still 950,000 Afghans living in the neighbouring country.


However, the Iranian consul in Kabul, Muslim Salatani, told AFP in an interview last year that it was the right time for Afghans to return home.


"The war is over in Afghanistan. The country is at peace. Iran was a second home for the Afghans during the war, but now they should go home to participate in the country's reconstruction," he said.




---
To: freedom44
Freedom in Iran ~ Now!

Death To all Islamofascist terrorists ~ Bump!
---
FreeRepublic.com is powered by software copyright 2000-2008 John Robinson