---
To: SausageDog; judicial meanz; Alouette; SJackson; Nachum; Yehuda
"Your idea could well explain our invasion of Iraq. That WMD argument really never did look very good. Your idea could also explain why we countinue our occupation of that country even after the WMD hoax has been totally discredited. I think, however, that the families our dead soldiers may not fully appreciate the necessity of our support of Israel. Perhaps the administration should level with them."
Your hostility towards the Nation of Israel is barely veiled.

Whatever the justifications published by the Administration for world consumption for the invasion of Iraq, their goals are certainly more broad than simply the benefit of Israel. Unfortunately for those inherently hostile to the Jews who always insist on conspiracy in our Middle East foreign policy, the American government has much more far reaching objectives in that region.

Instead spouting off uneducated comments like in your post, I suggest you read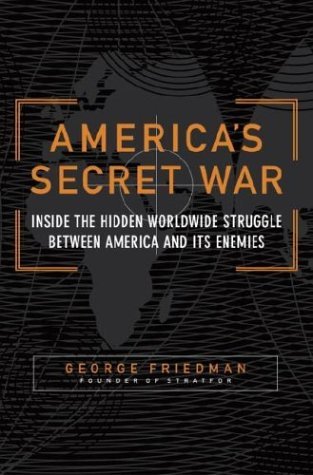 George Friedman's (founder of STRATFOR) America's Secret War: Inside the Hidden Worldwide Struggle Between America and Its Enemies. The organization is well respected in American circles of influence and his detailed analysis will reveal some pretty bold objectives on the part of the Bush Administration for the Middle East. Israel is just another chess piece on their big table.

Unfortunately, strong-arming Israel into a false "peace" with her sworn enemies is part of the wider plan.

190
posted on
02/20/2005 6:53:09 PM PST
by
Salem
(FREE REPUBLIC - Fighting to win within the Arena of the War of Ideas! So get in the fight!)
---
To: Salem
Policy seems all to clear to me too. I think Bush's policy of attacking Al Qaeda while 'strongly encouraging' Israel to not only 'restrain from fighting back' but also 'reward them with land' is muddleheaded at best.
231
posted on
02/23/2005 6:18:17 PM PST
by
Lysshua
(Justice, justice shall you pursue.......Deut. 16:20)
---
FreeRepublic.com is powered by software copyright 2000-2008 John Robinson