---
60 years on, survivors recall Nazi camp's liberation
Haaretz ^ | April 11th, 2005 | By The Associated Press


Posted on 04/11/2005 1:26:23 AM PDT by M. Espinola
WEIMAR, Germany - Elderly survivors of the Buchenwald concentration camp laid flowers and observed a moment of silence for victims of the Nazis, 60 years after U.S. troops liberated the camp.
Flags from some 30 nations hung in the cold drizzle on Sunday, representing the nations from which the camp's 240,000 prisoners came between 1937 and 1945. About 56,000 died - either worked to death, shot or killed in medical experiments.
Ukrainian concentration camp survivor Petro Mischtschuk, 78, holds a white flag at former Nazi death camp Buchenwald in Germany, Sunday. (AP)
German Chancellor Gerhard Schroeder and U.S. veterans came to the camp memorial outside Weimar for the commemoration, which kindled vivid memories for the survivors, most of them in their 70s and 80s.
Georg Sterner, a Hungarian Jew, recalled looking out from Barracks No. 37 when the first U.S. tank crashed through the barbed-wire perimeter fence on the morning of April 11, 1945.
"We were hanging out of the windows," said Sterner, who was 17 then. "It came slowly, slowly. It stopped between the trees. It revved the engine ... made a lunge, and broke through."
Some of Buchenwald's liberated 'prisoners'
Inside, shocked soldiers from the U.S. 3rd Army found some 21,000 starving survivors and piles of corpses, some only partially burned in the crematorium ovens as the Nazi SS and their helpers fled the camp.
"It was so incredible - stacks of bodies, the smell, the total shock and confusion, people walking around by the thousands," said Jerry Hontas, who arrived the next day as a 21-year-old Army medic.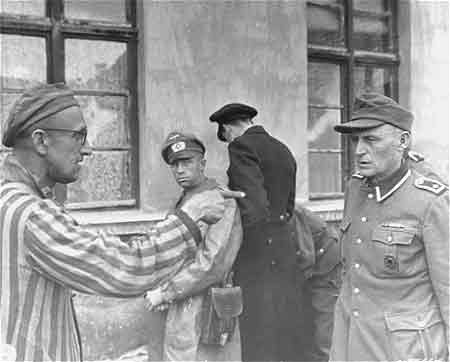 A Russian survivor of Buchenwald, liberated by the 3rd Armored Division of the U.S. First Army, identifies a former camp guard who brutally beat prisoners.
"We were so shocked we couldn't talk to each other for days," said Hontas, of Boca Raton, Florida. "We had no concept of this kind of insane cruelty."
Nazi guide to 'types' of prisoners at Buchenwald
On Sunday, some survivors came in wheelchairs. Others wore replicas of their striped inmate's uniforms and their old prisoner numbers.
Schroeder recalled that Weimar stands for Germany's classical cultural heritage - Johann Wolfgang Goethe, the most revered German author and playwright, had his home there - and said the Nazis had turned it into "coldness and cruelty."
"I bow before you, the victims and their families," he said at Weimar National Theater, addressing Buchenwald survivors in the audience.
SS Colonel Karl Koch, commandant of Buchenwald, with family
Though Buchenwald was not expressly built for mass killing as Auschwitz was, the camp was just as much part of the Nazis' effort to wipe out anyone deemed un-German.
American GI's view cremation pyre at Buchenwald's sub-camp Ohrdruf on April 13th, 1945
Sunday's ceremony was meant as a remembrance of victims of Nazi camps in Germany, which were successively freed as Allied troops advanced before the Nazi surrender in World War II in May 1945.
Thuringia, the state where Weimar is located, was a Nazi Party bastion even before Adolf Hitler came to power in 1933 and he often visited the city.
With an eye on recent electoral successes by Germany's extreme-right fringe, Schroeder said Germany must remain vigilant against racism and anti-Semitism.
"We remember what happened, and we remind others of it, because we must not forget," Thuringia governor Dieter Althaus said at the theater. "Because if we forget, we risk that it will repeat itself."
Buchenwald was part of the Nazi Holocaust in which 6 million European Jews died. But there also were many non-Jewish victims - political prisoners from Germany and other European countries, Soviet prisoners of war and Jehovah's Witnesses.
Soldiers from Headquarters and Services Co. of 183rd Engineers Combat Battalion, 8th Corps, Third Army view bodies at Buchenwald on April 17th, 1945
As Nazi control dissolved in April 1945, Buchenwald inmates rose up and took revenge on their captors just before the Americans came.
"One of the first things I saw was bodies hanging in the trees, because the inmates had captured some of the guards," said Jack Garwood, now a retired engineer in Naples, Florida, who was among the first soldiers to arrive.
Gen. Eisenhower views burned bodies & stated 'Still having trouble hating them (Nazis)?' April 12th, 1945
The Americans brought Weimar residents to the site to see what happened just eight kilometers (five miles) from their town.
"They were very stoic, very unemotional," Hontas recalled. "I remember only one woman dabbing her eyes."
Congressman Ed Izac views burned remains in ovens
After the war, the site came under Soviet control. The Soviets imprisoned suspected Nazis and others under appalling conditions that claimed some 7,000 lives - a fact Schroeder noted on Sunday.
An American Army Rabbi, Hershel Schacter, held Shavuot service on May 18th, 1945
Graphics added

---
TOPICS: Culture/Society; Foreign Affairs; Germany; News/Current Events
KEYWORDS: buchenwald; cary; deathcamps; germans; holocaust; jewish; liberation; nazis; shoah; ss
---
---
---
---
---
---
---
---
---
---
---
---
---