---
To: DoctorZIn; Khashayar; PhilDragoo; F14 Pilot; Valin; Reza2004; freedom44; Pan_Yans Wife; AdmSmith; ..
Mohsen Rezai (C), former commander of the Iranian revolutionary guards and secretary of the Expediency Council arbitration body, arrives to register as a presidential candidate at the Interior Ministry in Tehran May 11, 2005. REUTERS/Morteza Nikoubazl
.
And now for some of the more colorful registrants................
LOL - look at the registrar's face. LOL
A candidate claiming to be the 12th Shiite Imam is told to complete his registration form for Iran's upcoming presidential elections. Eccentric Iranians were out in force as the interior ministry opened its doors for wannabe presidents.(AFP/Behrouz Mehri)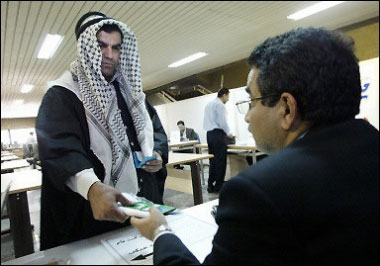 Saddam, is that you?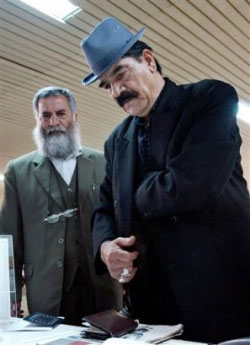 This guy old enough?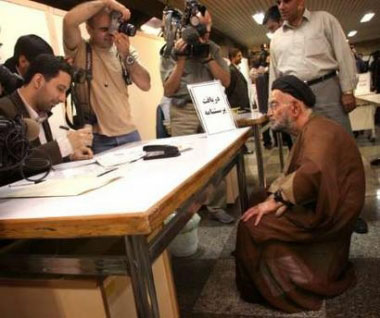 Ali Akbar Nassiri Khansari, wearing a sash that reads 'servant of the people of Iran', fills in the paperwork to be a candidate for President of Iran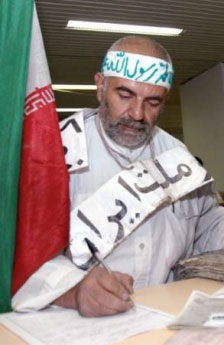 Yup. I think Ali's my guy!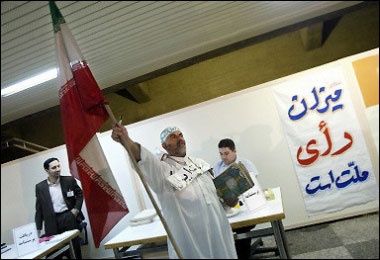 7
posted on
05/13/2005 7:13:11 PM PDT
by
nuconvert
(No More Axis of Evil by Christmas ! TLR) [there's a lot of bad people in the pistachio business])
---
To: nuconvert; Khashayar; MeekOneGOP; Grampa Dave; BOBTHENAILER
MULLAHS PROMISE NO FUNNY BUSINESS
JUST A COUPLE OF WILD AND CRAZY GUYS
8
posted on
05/13/2005 8:06:28 PM PDT
by
PhilDragoo
(Hitlery: das Butch von Buchenvald)
---
To: nuconvert; AdmSmith; freedom44
Mohsen Rezaee's son sought Political asylum few years ago from the government of the United States.
---
To: nuconvert
ROTFLMCO, I love those pictures!
---
FreeRepublic.com is powered by software copyright 2000-2008 John Robinson