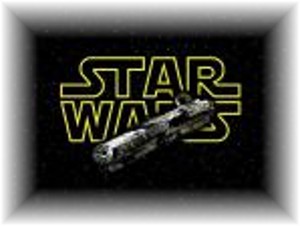 .

Ah, Star Wars – where to begin?


Words & phrases were born: "The Dark Side", "May the Force be with you","Ewoks", "lightsabers", droids", "hyperspace". The stellar career of Harrison Ford (Hans Solo) was launched, while Mark Hamill (Luke Skywalker) remained relatively obscure and Carrie Fisher (Princess Leia) went to rehab & both Mark & Carrie have experienced a modest comeback.


.

R2D2 & 3CPO were resurrected in 1999 for episodes 1-3 all the while George Lucas, a household word, became famous, rich, & has input with many films of all sorts with his companies Lucas Industrial Light and another firm Skywalker Sound. These two firms combined have won 40 Oscars ! If you sit through the "credits" at end of movies, as I always to, you see the names often. Lucas also had directed &/or produced movies such as Willow; Indiana Jones series; and American Graffiti. The genius of Lucas is undisputable.


.

We learned a little about tolerance, respect, cooperation, and even LOVE ? among humans not just a different color, race or nationality.. but between human and robots and humans & intelligent creatures of every imaginable appearance and disposition. Hans Solo & Chewy; Leia & C3PO; Luke and R2D2 - a few examples. We waited for the first kiss between Leia & Hans; we cheered when the Death Star exploded and cried when we found out Luke was Darth Vader's son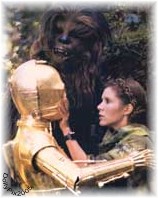 .

We also learned that no longer were the credits at the end a one minute affair. I didn't think there were that many people in Hollywood, yet alone part of one movie!

A generation that was raised (or raised their children) on the first three episodes – actually the middle of the trilogy - beginning in 1977 looked forward with anticipation as the opening of the next series at the end of millenium, to let us know "how it all started". Current gossip has it that Lucas may be bold and go where no other human has gone – No wait that is another series - and do the last three of the trilogy. Hmm.. a trilogy of trilogies. Works for me.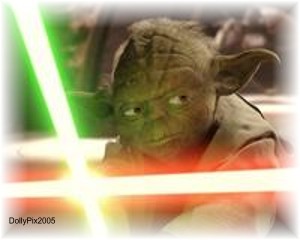 .

Please join us with your stories of your childhood experiences, your children's experiences, your Star Wars favorite characters; Star Wars Trivia; your favorite Star Wars Pictures/graphics.. And hey, invite your friends, who are Star Wars fans to join us.

And yes, it is Thursday and JohnHuang2 is not able to be with us today. My guess is he has bought an all day pass and is going to sit through the movie half a dozen times He should be back with us next week.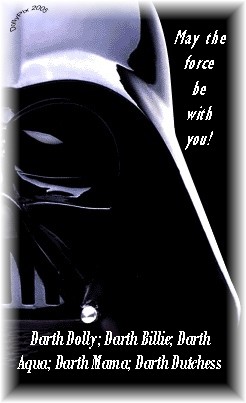 DollyCali Does Star Wars


Always having been a movie fan & a Sci Fi fan for decades, I looked forward to this movie with all the hype that preceded it.. 1977. My son was 4 when husband and I decided to take him to the first theater movie. It has been playing for weeks with great reviews & crowds still heavy, but not sold out.

Son Jeff had been talking about it for weeks – much promo on TV. As we stood in line for the movie and he asked what we were going to see we asked him what was the movie he really wanted to see.. We just about fell over when he said "Pete's Dragon" (the most recent advertised flick) .

Well we did NOT have to worry about him being disappointed. Jeff like his mom is typical ADDH… little sleep, always bouncy, active and talkative. I had worried about him also disturbing other movie fans. Well, we didn't have to worry about this either. HE NEVER MOVED. He sat transfixed from beginning to end.

Jeff and I saw this at theater several more times together and I alone many more times (for the sake of you all not thinking I am a complete Movie Maniac, I plead the 5th to exactly HOW MANY TIMES.)

Jeff and I together saw the next two episodes over the years. Between the first movie & the opening of The Empire Strikes Back we found our home became a haven of star wars figures, aircraft, monsters, fighting vehicles & light sabers…and as of now..well, yes I own all the VHS & DVDs.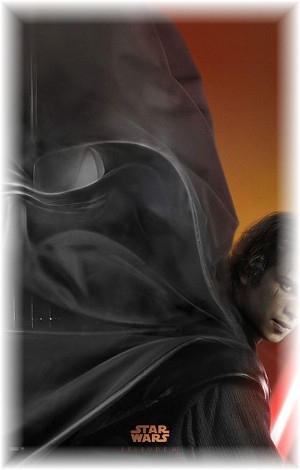 When Episode 1 opened in 1999 here in NE Ohio, I had much nostalgia as I went the first day & wished I could be sharing this with Jeff.. Alas he lives 500 miles away & now has his own family.

When that wonderful blast of music & the Opening Scroll of "A long time ago, in a galaxy etc" burst onto the sceen....I...I...

I began sobbing.

I freely confess. . I never realized how powerfully this would affect me. A couple folks my age sitting near by patted me & nodded, understanding. At the end of the movie, everyone jumped up & clapped. The critics didn't give it top reviews.. but we fans did.

I may not be around a whole lot for next ??? hours.. depends on how many showings I am able to get tickets for today. I will be there after midnight for the initial public showing.

And I hope that all visiting will realize this is NOT the thread for flaming & critical political commentary on the stars & crew.


Now please pass the popcorn...