---
To: KC_for_Freedom
They (judges, ACLU, et al) conveniently use Jefferson's letter to the ministers as the basis for the "seperation" argument.
Jefferson wrote the Religious Freedom Act for the Virginia Constitution, which is the basis for the First Admendment religious clause.
They ignore the written law, and base their philosophy on some obscure private communication.
I've had it right up to here with every stinking one of them. My last nerve is frayed and bare and THEY are ON IT.
8
posted on
08/06/2005 11:18:24 AM PDT
by
concretebob
(We will not stop until every a$$ is kicked and every name is taken.)
---
To: concretebob
They are agents for the enemy. Their day is coming.
---
To: concretebob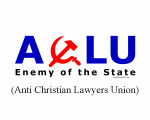 ---
To: concretebob
My problem is not that they can find justification out side the constitution, there are plenty of libs writing cr*p about the poor athesist who has to stand and be painfully offended with another leading a group prayer. How about just standing and RESPECTING another's belief? Same goes for the Salute to the Flag of the US. If for some reason you do not want to salute the flag -- and there are reasonable as well as tratorous reasons -- just stand there and be respectful. If you are not a christian, (I am Jewish) you should note that the nativity scene represents a holy time for another religion and be respectful of this.

We are headed in an insane direction by the initial supreme court decision establishing the separation of church and state doctrine and the court only has to look at the ten commandments decision to see just how conflicted and far from logic they have brought us.
22
posted on
08/06/2005 12:15:04 PM PDT
by
KC_for_Freedom
(Sailing the highways of America, and loving it.)
---
FreeRepublic.com is powered by software copyright 2000-2008 John Robinson