JustAmy, PrissyMissy and MamaBear met some of the Finest people on the planet on their recent trip to Ohio and West Virginia! Today's post will run through Wednesday and is a compilation of thoughts and photos from DollyCali, JustAmy, PrissyMissy, Dutchess, WVNan and Scubachick's "Babychick". Today we present "Part I" - Columbus and Akron. Tomorrow will find the happy travelers in West Virginia for "Part II".

We hope you will enjoy this picture story of their freeper get-together.

First stop - Columbus, where they "do the zoo" with Sistah Dutchess,......then on to Akron to meet with more Ohio FReepers.....








The Zoo...The Zoo....
California Finest Freeper Friends are Visiting
....That's What We'll Do!!!!





My perspective....how could I entertain these very special people? They politely suggested the Columbus Zoo which Jack Hanna ran for years. That became the focal point. I've loved these gals from afar for years....but drove into Columbus with a little "trepidation". Knocked on the door, the door opened and was greeted with a great big "Mama_Bear" hug from Lori! What a lovely lady! Hugs also from Amy and Marissa, equally lovely and adorable (in that order :o)).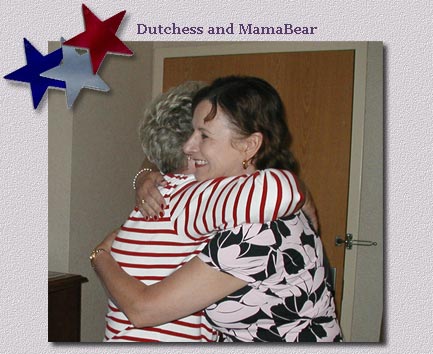 No one was sure of the next step so I, hating city driving, drove on a course to the zoo AND missing a turn happened upon a Bob Evans Restaurant where we had breakfast. Now...I know most Midwesterners know of Bob Evans sausage (he actually started the family business in Gallipolis, Ohio where it is still headquartered) Lori NEVER heard of it wondering if was anything like Jimmy Dean sausage... amazing huh? Needless to say we ate lots of carbohydrates…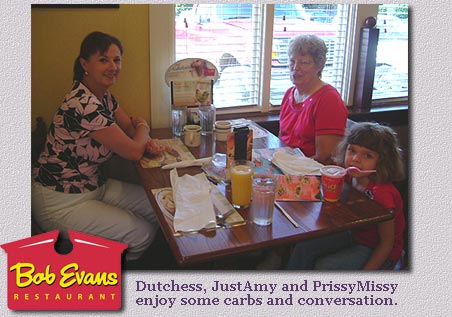 Next step...the Zoo.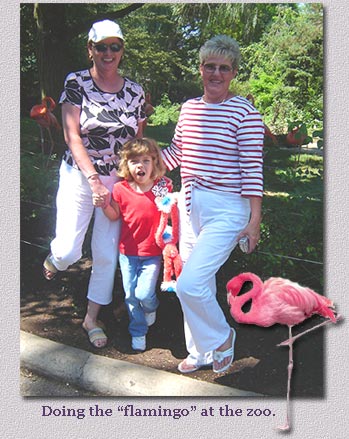 We had so much fun and the day went so fast. Lots of talking, bonding, okay…hate to admit it….we did do just a tad, wee bit of "gossiping" (but only in the purist, cleanest form, of course!)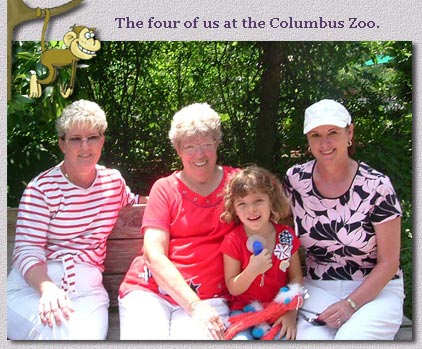 Speaking of directions (how's that for a lead in?) I did a wrong turn exiting the zoo and Lori, Amy and PrissyMissy had to put up with the "scenic" tour of northern Columbus....I tried to portray total confidence (while I didn't know where the heck I was and was feeling the beginning of a panic attack!!!). Meanwhile, Marissa seemed "nonplussed", making up and singing a kind of "rap" song about cats. I am not exaggerating that she has a great voice, sense of timing and beat. Anyway found our way back to the hotel and before I had to depart they asked me for directions to the next leg of their trip. (ME, directions?????) Fortunately they supplied me with a map! (although I still called Mr. D…otherwise they still might be on the road looking for their next destination)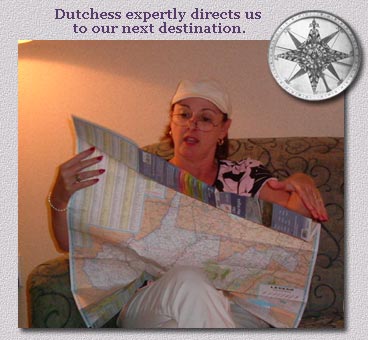 Anyway, just want to say....if you EVER have a chance to meet a finest freeper...do so... You don't know what you're missing. So glad to meet you in person Lori, Amy AND Marissa!!!

For Dutchess, DollyCali, MollyPitcher, OhioWFan, DrDeb,
BoxerBlues, Dubyaismypresident and CommieWatcher.
Thank you for welcoming us to Ohio.


After a hearty breakfast at Bob Evans,
our day at the zoo begins.
But first, Dutchess makes sure her camera is ready.


The zoo is BIG and wonderful.
Marissa and I take turns riding. :)
At least we know where she is!

The day was far too short. :(
We met at Stan Hywet Mansion and Garden on Saturday.
The picnic lunch and the wine were fantastic.
Left to right are: JustAmy, Mama_Bear, MollyPitcher,
OhioWFan and Dr.Deb.


Dubyaismypresident, BoxerBlues and Commiewatcher
also joined us at the Stan Hywet picnic on Saturday.


DollyCali ..... thank you for planning and organizing a wonderful FReeper get together.
You did good.

Mama_Bear and JustAmy extend their
heartfelt thanks to DollyCali and all of the Ohio FReepers who came out to picnic with us.





Did I read that FReepmail correctly? Amy & Lori are coming to OHIO to visit us????

I had met them 6 months prior in DC at the Inauguration in January 2005. We didn't have too much time together as for all of us a lot was packed into the 48 hours I was in DC. But I did wish we were not a thousand miles plus away from each other.
Well, I had read it correctly and the months didn't go fast enough until the day on July 23 where we would all meet for a FReeper get together. They didn't have a whole lot of time & had a lot of real estate to cover in Ohio & WV so we had to chose ONE locale they wanted to see.. Offerings such as the Rock and Roll Hall of Fame, First Ladies Museum, Warther Museum, and the Inventor's Hall of fame all took fell off the draft table when they took a look at the possibilities of the Stan Hywet Hall in Akron Ohio. A turn of the century Golden Age mansion on an immense and gorgeous estate was the choice.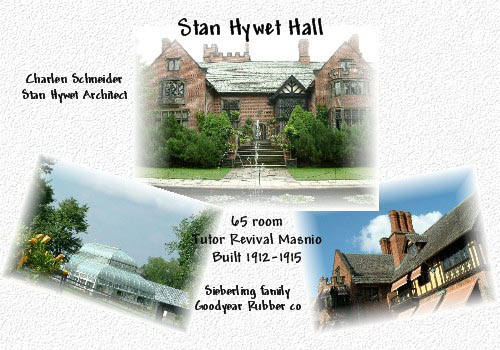 Next followed many FReepmails & posting on State board to see who could come for a PAR_TAY. It is summer & people were going to be on vacations, at weddings, or otherwise committed but we did have a nice. although small, group. None of the WV folks were able to attend. Wanted to keep the cost low for travelers so decided to provide a picnic wine/lunch & ask local folks to bring something to share.

The weather was perfect. After weeks of stifling heat & humidity, God blessed our time with a gentle breeze, mild temperatures and a gorgeous blue sky with puffy clouds & bright sun. The California gals simply could not understand why we were always complaining.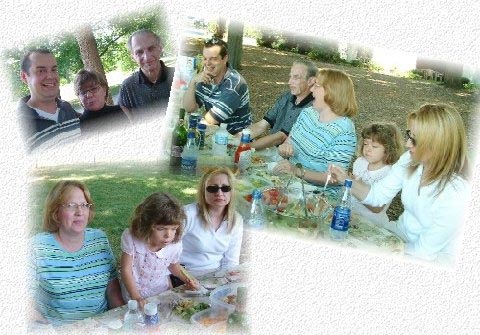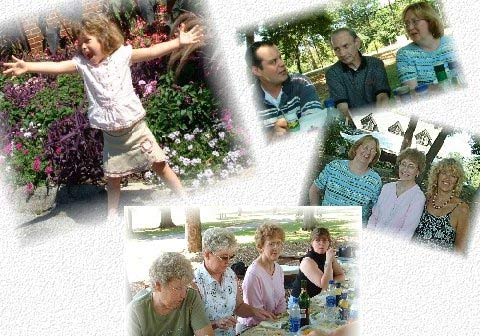 Attendees were Molly Pitcher (who lives the closest); Dr.Deb (who drove the farthest); ohioWfan; Commiewatcher; Dubyaismypresident; boxerblues; JustAmy; Mama_bear; PrissyMissy; and DollyCali. It was good to have boxerblues with us as she had lost her 51 year old husband to cancer a few months prior and currently has 2 sons in military - one in Iraq and so was very ready for sharing time with good FReepers.
Over wine in crystal we toasted the occasion & chatted for hours about the weather, politics (OF COURSE!); Iraq; gossip ( OF COURSE AGAIN); our pets; Jim Robinson (OF COURSE); tattoos (YEA, we did); and the normal chit chat that goes dozens of directions.

Plenty of food was prepared, but I had to chuckle when I called Amy on her cell phone about a half hour before our rendezvous time to check if they were on schedule and heard they were at BURGER KING!!! Guess people always get a little nervous/worried when they know a vegetarian is preparing the meal.


After chat & eating a few of the folks had to leave (one to play poker!) but some took the tour of the Stan Hywet house. It is big, impressive, fun. The Sieberlings were GOODYEAR & friends with the likes of William Taft, Helen Keller & the Von Trapps (of Sound of Music fame). Mrs. Sieberling was a professional opera singer & canvas artist and the guests & performances at Stan Hywet were the talk of NE Ohio. The entire mansion contains all of the original furniture & appointments. It was fun but the day went much too quickly.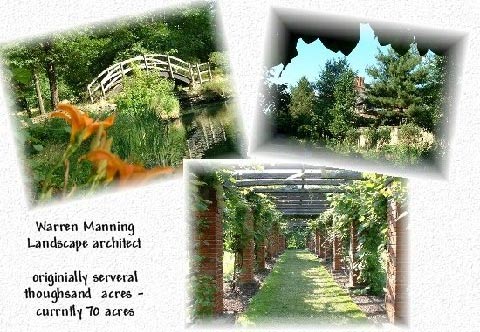 That evening was a live professional presentation of a Midsummer's nights Dream on the grounds of the estate.. Amy & Lori were bushed & decided to just go relax at their room in Cuyahoga Falls at the Sheraton Suites.

Below we are about to say goodbye for the day & PrissyMissy was kind enough to take our picture. Amy & Lori & PrissyMissy left the next morning to visit Nan who was … well, that is somebody else's story.

Dutchess is calling for directions.
I hope we're not lost.


We didn't get lost.
Dutchess found "King Louie"
of Jungle Book fame.
It looks like ketchup.
DrDeb says it isn't.
She is right, it doesn't taste like ketchup.
MamaBear and I checked out
beautiful view at Cuyahoga Falls.


It is important to get your beauty rest
whenever and wherever you can.