---
Sheehadi "Bus" Stops in St. Louis, Missouri
Streets of St. Louis | 9/4/05 | bluesagewoman


Posted on 09/04/2005 6:35:53 AM PDT by bluesagewoman

The Sheehadi's bus stopped for a little Kumbiya time in St. Louis, Missouri today. We prepared a little counter to make sure they see that they have not managed to turn Casey into peacenik fodder. Our troops are our heroes, and they deserve to see support on the streets as often as they are force-fed the appeasement-pusher's morale busting antics of the radical leftists.

Bahbah and StarCMC did recon earlier and scoped out the march route and gathering places so the Columbia contingent was able to pull straight into parking places and walk right in. We came armed with flags, posters, and big smiles. Additional support arrived, Guido and his dad from the Joplin area. So all told we had: StarCMC, Bahbah, Dogrobber, Cardinal 4, Zip, Bluesagewoman, Guido and FRiends Hat Lady and Dad of Guido.

First detail we saw to was to make contact with local LEOs. After introducing ourselves to Sgt. Bob, he asked us if we were going to try to go over to engage the peaceniks. We stated, "No way," but advised him that peaceniks often come over and accost us. He said they'd make them stay on their side of the street. And, they did, too.

We set up right across the street from the church the peaceniks were using for their platform. One protester almost immediately come over and started in on the lame old Bush Lied and it's all for Oil routine. We informed him he was supposed to stay on his side of the street. He kept trying to provoke, insisting we answer his stupid questions, and refused to leave at our repeated requests. Ironically, when he called Dogrobber an a$$hole, Dog replied, "Yes, I am an a$$hole, so what." The guy then got mad and accused Dog of calling him bad names. Those guys really do have the logic wire swinging loose somewhere upstairs.

After awhile, we got tired of his mouth and his refusing to leave so we all started chanting loudly, "Go, Go, Go, Go" until it got Sgt. Bob's attention. He came over and made Mr. Short-in-the-brain-box leave. Mr. Short argued with him a bit, but did leave.

Oddly, in the city of St. Louis, for a nationally advertised bus tour of a protest group claiming to have this huge momentum building, we counted right at 100 peaceniks. So with the 9 of us there, we vastly outnumbered them, according to Zip's magic mathematical calculations. (Columbia can get that many together just to protest the sun coming up.)

There was a small media presence and when a reporter approached and asked to speak to our "spokesperson" everyone, except Dogrobber, took 1 step back. That left Dogrobber the duly elected volunteer. Fortunately for us, he didn't demand a recount of the vote. And, he spoke quite eloquently. (Hope it made the news.) A second person with a TV camera dropped by for a few minutes and scanned his lens over our signs. I don't think he said anything, just took footage of the posters. He spent the rest of the rally across the street.

We observed that a young woman had a large, framed photo of Casey and was it carrying high over her head around in the crowd, like you'd see being done at an auction. In a short time the bell from a church started ringing. The bells rang, LOUDLY, for a good 20 or 30 minutes until the peaceniks were finished talking and were ready to march. Someone said that it was done to honor the fallen soldiers. We'd thought someone had done it to drown out their drivel…which it did. Whatever the reason, it overpowered their sound system.

We could hear some of the speakers and it was both surreal and sad. One woman proclaimed the inevitable success of their beliefs because "one third of America was new age." Other speakers proclaimed the power of one voice, despite the fact that their side has consistently lost the war for America's hearts and minds for the last two years. Finally, if these winners were not enough, we had one last winner who promoted the same old song of peace due to all learning to live together. Naïve to the point of foolishness, especially in light of 9-11, and the willingness of our enemies to kill themselves to kill us.

The protesters then marched a couple of blocks to the Soldier's Memorial, where they started placing their mock tombstones among the Memorial (we heard that they first were going to use crosses, but the anti-Christian element objected.) We marched along the opposite side of the street and lined up across from them again. Almost immediately, passing vehicles started honking and giving us thumbs-up. Twice, military persons in vehicles shouted at us thanking us for being here. We yelled thanks to them for being there. One car full of military guys was yelling "thanks" and "your welcome" at the same time. It was wonderful!! One large semi-truck blew his horn and definitely made our ears ring.

As the peaceniks started marching back to the church to have dinner with the bus people (no, Cindy was not with them) we noticed one young man wearing a black shirt emblazoned with a bright orange hammer and sickle. No agenda there, nope! (You just have to wonder about a group whose members advertise for a defunct ideology that not only ruined the ecology of the countries that followed it but killed innocent civilians by the tens of millions).

After taking up our post again across from the church, a young man approached us grinning ear-to-ear. He was just back from his 2nd tour in Iraq with the National Guard. He said he couldn't stay away and felt he had to come down to witness the protesters. He was very happy to see us there. He even allowed us to shake his hand and let us stand with him for photos. We all agreed this was the highlight of the day. StarCMC gave him a Canteen business card and he said he would visit soon. Hope it does.

The peacenik crowd then went inside to have their dinner, so we went back to where our vehicles were parked. We saw the van-camper that was the Sheehadi's bus. Most noticeable was the satellite dish for Internet connection on top of the bus. For a "grass roots" movement, their roots must be sunk deep into that magical "Soros" brand of fertilizer, a perverse combination of raw money and big piles of liberal horse apples.

Conclusion: We were there, our troops saw us, mission accomplished.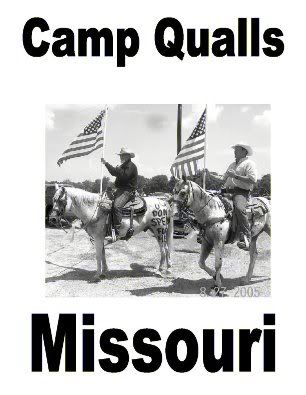 Peacenik group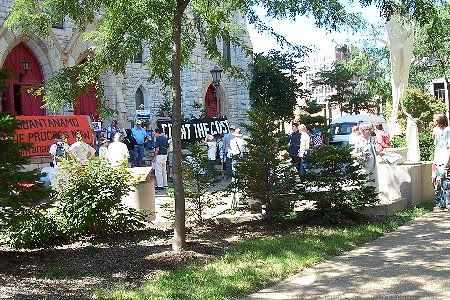 Another view of peacenik Sheehadi camp
Group shot
Nation Guardman stops by.
StarCMC's sign
Sgt. Bob keeps watch.
Tombsones replace crosses
Hammer & Sickle.
Their "bus" is a van.
It was great to meet everyone.

---
TOPICS: Activism/Chapters; Editorial; US: Missouri
KEYWORDS: aar; caravan; cindysheehan; columbia; counter; freep; missouri; peaceniks; rally; sheehan; stlouis; supportourtroops
---
Navigation: use the links below to view more comments.
first previous 1-20, 21-40, 41-60, 61-80 ... 141-151 next last
---
---
---
---
---
---
---
---
---
Comment #29 Removed by Moderator
---
---
---
---
---
---
---
---
---
---
---
---
Navigation: use the links below to view more comments.
first previous 1-20, 21-40, 41-60, 61-80 ... 141-151 next last
---
---