---
To: nickcarraway
This explains how the Democrats could stumble into the absurd position of saying that Iraq under Saddam Hussein was terrorist-free and that he just wasn't the sort of person to associate with Muslim terrorists. This whitewash of pre-war Iraq has become essential to the Democrats...
I've been to Iraq. Before Team America arrived, it was a land of flowery meadows and rainbow skies and rivers made of chocolate where the children danced and laughed and played with gumdrop smiles.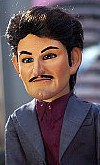 ---
To: Plutarch
"Team America"

I laughed so hard at that movie, I almost hurt myself. I rented the DVD to watch the "behind the scenes" features, which were almost as good as the movie.
---
FreeRepublic.com is powered by software copyright 2000-2008 John Robinson