---
To: KamperKen
Charade? You ad hominem attack, like your "arguments" is weak.
Excuse me, but I explained in some detail how your charade is weak. A real refutation would show in some detail where my analysis fails.
You could do this wonderfully by showing where exactly mainstream defenses of that awful Darwin person's theory are weak. That would not only help you with your free-thinking credentials, but it would move you closer to a financially rewarding Nobel Prize.
Now, I and others have already posted enough of the mainstream science evidence to give you something to chew on, at you and at other open minds of your sort. I'm reasonably sure your thirsty mind has somehow failed to absorb any of it, though, so I'll lay some at your feet here.
852
posted on
12/08/2005 7:22:09 PM PST
by
VadeRetro
(Liberalism is a cancer on society. Creationism is a cancer on conservatism.)
---
To: VadeRetro
Pictures, you gotta have pictures!
Here's a cutie: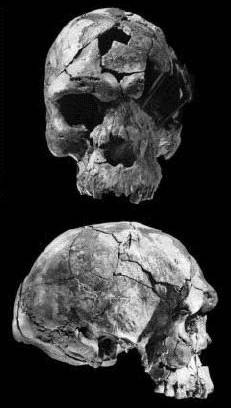 Herto skulls (Homo sapiens idaltu)
Some new fossils from Herto in Ethiopia, are the oldest known modern human fossils, at 160,000 yrs. The discoverers have assigned them to a new subspecies, Homo sapiens idaltu, and say that they are anatomically and chronologically intermediate between older archaic humans and more recent fully modern humans. Their age and anatomy is cited as strong evidence for the emergence of modern humans from Africa, and against the multiregional theory which argues that modern humans evolved in many places around the world.
854
posted on
12/08/2005 7:34:17 PM PST
by
Coyoteman
(I love the sound of beta decay in the morning!)
---
FreeRepublic.com is powered by software copyright 2000-2008 John Robinson