---
To: VadeRetro
Pictures, you gotta have pictures!
Here's a cutie: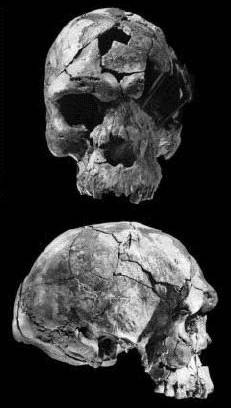 Herto skulls (Homo sapiens idaltu)
Some new fossils from Herto in Ethiopia, are the oldest known modern human fossils, at 160,000 yrs. The discoverers have assigned them to a new subspecies, Homo sapiens idaltu, and say that they are anatomically and chronologically intermediate between older archaic humans and more recent fully modern humans. Their age and anatomy is cited as strong evidence for the emergence of modern humans from Africa, and against the multiregional theory which argues that modern humans evolved in many places around the world.
854
posted on
12/08/2005 7:34:17 PM PST
by
Coyoteman
(I love the sound of beta decay in the morning!)
---
To: Coyoteman; Ahban
Idaltu?
I don't think I'd ever heard of that. It must really be new! Thanks for it!
(But I'm sure there's some reason why it's "weak." My sixth sense is telling me. I'm getting a feeling everyting on this thread is going to be "weak" for as long as someone's convenience demands it.)
There's a freeper named Ahban who has at times staked a lot on this kind of thing not existing, so I have to ping him here.

855
posted on
12/08/2005 7:40:47 PM PST
by
VadeRetro
(Liberalism is a cancer on society. Creationism is a cancer on conservatism.)
---
To: Coyoteman
Wikipedia
has a nice article on the same thing.
I love it. A God of the Gaps is no God at all.

857
posted on
12/08/2005 7:51:41 PM PST
by
VadeRetro
(Liberalism is a cancer on society. Creationism is a cancer on conservatism.)
---
FreeRepublic.com is powered by software copyright 2000-2008 John Robinson