---
Joshua Sparling - 8,000 cards and counting!
Personal visit, previous news report from FNC ^ | 12/20/05 | Coop


Posted on 12/20/2005 4:12:48 AM PST by Coop

Edited on

12/21/2005 6:11:16 AM PST

by Admin Moderator. [history]

Mod update (post #156):

(12/21 appearance, via phone, on Fox and Friends)

[Josh] was talking about all the cards and gifts he has rec'd ... he had over 8,000 with him .. that his father is helping him give them out to the other soldiers.

He said he'd be trying to send thank you notes to everyone .. but there are so many that he can't write them all right away and wants to let everyone know how thankful he is.

Brian mentioned that his leg could be saved and Josh said that once he gets better that he is going back.

WOW .. what a great man his is .. God Bless him

156 posted on 12/21/2005 9:05:34 AM EST by Mo1

For those unaware of the original story, Joshua is a wounded soldier at Walter Reed Army Medical Center who received a hate-filled Christmas card supposedly written by a young boy. Please review this thread regarding Brian Kilmeade's original story, as well as this thread for the alleged admission of the hate card's supposed author. (By the way, the hate card was not directly addressed to Joshua, but rather was from the "Any Soldier" pile.)

Since I go to Walter Reed frequently, I made an offer on the first thread of delivering cards and goodies directly to some patients if people so desired. Several kind people took me up on that offer, and the following is my description of my visits on 9 and 16 Dec. A friend, LandryFan, accompanied me on the second part of the good cheer tour, affectionately dubbed Operation Smother (as in smother 'em with love) by yours truly.

December 9, 2005:

For my first visit, which was less than a week after Kilmeade's 5 Dec article, I had received the following items:

-$300 worth of phone cards from New York
-40 individual bags of yummy, assorted baked goods from the state of Washington.
-Some personalized Christmas cards and a $50 money order from Texas. With this money order I purchased about $40 worth of a variety of snack items such as pudding cups, beef jerky, gum, Vienna sausages, candy bars, instant soups, etc. (The remaining $10 will be spent for my upcoming visit on similar items.)

Most of the loot I laid out on the table at Mologne House, a base hotel and transition facility for ambulatory patients. I generally mingled with patients and their families in the lobby and handed out phone cards, baked goods, Christmas cards, etc. Everyone within earshot heard over and over again how the central, eastern and western U.S. had taken part in this outreach, and all were duly impressed with the nationwide response.

I met "P" - a double below-knee amputee who said he never realized how much support there was for the troops until he got wounded. He's in regular contact with his unit and tells them about all the support he has received, which likely gives their morale a boost. P's mother is a refugee from Vietnam, and he joined the Army as a way to give back to the country which gave his Mom a new life. He said he would do it all again, if he could.

Two-year old Sabrina and her Daddy (who had lost both hands & forearms) came down to the lobby to get some treats. Sabrina grabbed a lollipop and candy bar (mmm mmmm!), and I asked if she liked cookies. The little blonde cutie suspiciously eyed the strange man kneeling down, holding out a bag of WA baked goods, but an assuring word or two from Daddy broke the ice -- at least long enough for her to grab the bag and then hide behind Daddy's leg.

Vera, from Utah, is the mother of one of the Marine patients at Walter Reed. I expected all the Marines to be over at Bethesda, but was surprised when I first learned of Vera's son, Brian, and other Marines in the facility. [Read about Brian in this 30 Oct 05 article] Vera is a lovely lady who really has become the "house mother" for all the patients at Walter Reed and the Mologne House. Because it was too late in the evening to visit patients I didn't know, Vera volunteered to deliver some items to Joshua and his mates the next morning. So we made up small packages of TX Christmas cards, NY phone cards and WA baked goods.

I did visit with one patient in his room – a co-worker's friend who had been shot five times the day before Thanksgiving in Iraq. I delivered a bag of snacks and baked goods, as well as a couple of Christmas cards, to Matt. He really looked great, although he joked about his humped back (due to bandages and muscular damage). Matt's parents, Debbie and Mark (who is an active duty Army Sergeant Major) from Va. Beach, and his friend Renee from Georgia were also there. Everyone was very friendly and appreciative of the support, and we visited for about twenty minutes. Out of the blue the family commented on how happy they were to see the D.C. Chapter (and Santa Claus) counter-protesting the anti-American leftists. They had not yet heard of the Joshua Sparling incident and were, not surprisingly, disgusted.

December 16, 2005:

For my second visit LandryFan graciously accompanied me with her own stash of goodies. I brought along my digital camera and the following items:

-A collection of audio books and DVDs from New York.
-A large box of goodies (candy, cookies, etc.), books and a video from Florida.
-From New Jersey, six Christmas stockings filled with items including a hand-written Christmas card, playing cards and a Nerf football.
-About 80 personalized Christmas cards from a Boy Scout troop in Pennsylvania, including some personally addressed to the Kilmeade featured patients and Matt from above (whose name I provided to them).
-Two large boxes of goodies (snacks, gum, underwear, socks, razors, shampoo, etc.) from New York.
-A large box of tender loving care (including chips & salsa, socks, undies) from southern Cal.

For this trip I had coordinated with MSG Tracy Evans of the Red Cross office. He was injured (neck, back, subsequent heart attack) in a vehicle accident near the Iranian border over a year ago, and he's still a patient at Walter Reed. But he works about six days per week in the hospital's Red Cross office sorting and delivering goodies to our wounded troops. He was very familiar with Joshua's story, and was one of the very few who was not thrilled about it. Why? Because he has to screen all the incoming mail! :-D

LandryFan and I were not allowed onto the ward to see in-patients, but Tracy agreed to deliver four packages (stockings, Boy Scout cards, assorted goodies) to the four (out of Kilmeade's original ten) patients still listed on the ward. While Tracy was visiting the ward, we divided up our goodies, leaving the DVDs and a box filled with snacks in the Red Cross office (which was OVERFLOWING with donated items) and setting the remainder aside for Mologne House. LandryFan instructed Tracy to ask Josh if he was married. Upon his return, Tracy reported that Josh had answered "No" when informed a young lady was asking about his matrimonial status. However, Josh's brother quickly sold him out with a "Yes you are!" Sorry, LF. ;-)


Joshua Sparling posing with Nerf football and stocking sent from the Garden State.
Upon arriving at the Mologne House we called up to four different rooms. One was not home, and one did not care to have visitors (very understandable given the late hour). By invitation we went upstairs and met with Cpl Todd Bishop, a double-amputee below the knee and one of the wounded soldiers profiled in Kilmeade's article. He, his roommate Robert and Todd's mother were all very gracious and appreciative of the support. We told them how proud we were of their efforts, especially given the tremendous results of the Iraqi elections the day before.
So, Todd, have you noticed any difference in your mail since the article?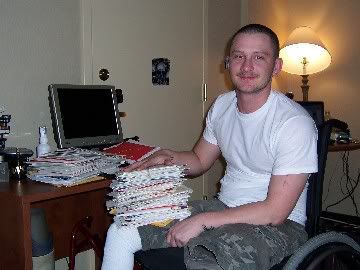 Todd showing off about three days' worth of mail.
I paid a second visit to Matt, the lieutenant shot up around Thanksgiving.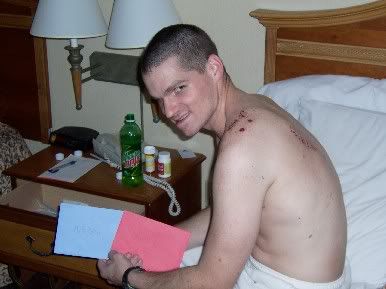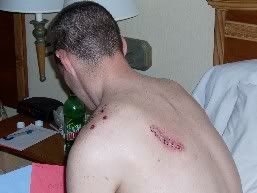 Matt showing off his personalized Christmas cards from Troop 431 and then modeling his wounds.
My apologies if anyone finds this too graphic, but I'm amazed at how good he looks given it's been less than a month. He calls himself very lucky, and the only permanent damage he'll likely have will be the loss of his left finger below the knuckle. Matt leaves in a few days for Christmas convalescent leave, and will return in January for physical therapy and hopefully hospital out-processing paperwork.
After departing Matt's room, LandryFan received a call from Steve Cobb, another patient who received one of her "Any Soldier" cards and his wife wrote LF back. We went over for a visit, and admired a collection of coins amassed during their special tour of the Pentagon earlier that day.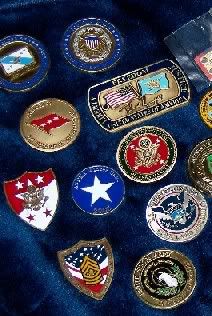 The long rectangular coin came from Rummy
Most Army units have their own coins, as do other agencies and even the POTUS. We also listened to an audio file about Steve's brain injury – suffered during a vehicle accident – and his subsequent therapy and recovery. Audio file and photo here.
I departed Walter Reed about 11:30 pm for the drive home - much less traffic than the Beltway parking lot I fought on the way up. All in all a very good visit.
Special thanks to some special FReepers for making this visit possible. I'd like to thank them by screen name, but some may not be comfortable with that approach. So (((hugs)))) to all of you for sending cards and goodies!
And a tip o' the cap to JimRob for this forum, which ties it all together.
I already have two additional boxes from New York and three from Maine, with more packages en route to me. So I anticipate at least one more report on or about Christmas. For those who may not be sure if their efforts are making a difference, take my word for it. They are! Keep sending those cards and care packages – whether to Walter Reed/Bethesda Naval Hospital, a deployed unit, military friends/families, whatever. You'll be showing a little gratitude to those who have given so much.
Freedom isn't free. God bless our troops!

---
TOPICS: Activism/Chapters; Breaking News; News/Current Events; US: District of Columbia; War on Terror
KEYWORDS: aar; christmas; hate; joshuasparling; michaelmoore; miguel; supportourtroops; troopsupport; walterreed; wia
---
Navigation: use the links below to view more comments.
first 1-50, 51-100, 101-150, 151-200 ... 351-357 next last
---
---
---
---
---
---
---
---
---
---
---
---
---
---
---
---
---
---
---
---
---
---
---
---
---
---
---
---
---
---
---
---
---
---
---
---
---
---
---
---
---
---
---
---
---
---
---
---
---
---
---
Navigation: use the links below to view more comments.
first 1-50, 51-100, 101-150, 151-200 ... 351-357 next last
---
---