---
'Peace' after Sharon--Warning shots
Jewish World Review ^ | 1-5-06 | Martin Peretz


Posted on 01/05/2006 5:45:00 AM PST by SJackson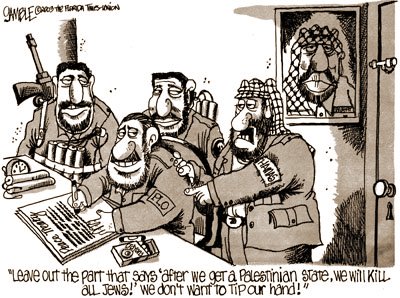 "The only thing that's going to solve this," Steven Spielberg told Time magazine, "is rational minds, a lot of sitting and talking until you're blue in the gills." This, I suppose, is what goes for heavy thinking in Hollywood.
Imagine Dreamworks negotiating with Paramount if the latter were continually shooting up the former. So maybe before the Israelis and Palestinians sit down with each other — as they've done innumerable times over the years, at Camp David and Oslo and secret hideouts for very long periods, even producing hopes that many credulous folk took for real — the Palestinians should sit down just with one another and decide whether they truly are a nation and what that nation promises its people. And if my grandmother had wheels, she'd have been a pushcart.
The fact is that, as no-nonsense Golda said many years ago, the Arabs of Palestine don't behave like a nation. No, this doesn't mean they shouldn't have a state. All kinds of rumps have states, and just about every one of these states is represented at the United Nations — where many of them cover for each other over the mortal crimes they inflict on their own populations, like Libya for Sudan, or, for that matter, China for virtually every violator of human rights on the planet. Actually, a fictive Palestine has already been counted as a virtual member state for decades, and this has given first Arafat and now his successors the standing to hijack the proceedings of the General Assembly so that much of its business has been devoted to how awfully the Jews treat the Arabs. And, in any case, haven't the Palestinians already declared their independence at least twice?

(Excerpt) Read more at jewishworldreview.com ...
---
TOPICS: Editorial; Foreign Affairs; Israel
KEYWORDS: peretz; sharon



---
To: dennisw; Cachelot; Nix 2; veronica; Catspaw; knighthawk; Alouette; Optimist; weikel; Lent; GregB; ..
2
posted on
01/05/2006 5:58:36 AM PST
by
SJackson
(There's no such thing as too late, that's why they invented death. Walter Matthau)
---
To: SJackson
Martin Peretz, another liberal mugged by reality, and who recognized it as a mugging not an embrace.

---
To: SJackson
Please, please let them turn off the electricity they're supplying Gaza, and keep it off for a while to see how they like it, turning it back on occasionally for an hour at a time to reinforce its absence. What a wonderfully passive-aggressive way to deal with a population of hostile degenerates.
---
FreeRepublic.com is powered by software copyright 2000-2008 John Robinson